Is graf art or urban art taking on a new look? Where are the strong and vibrant colours we usually see in a piece?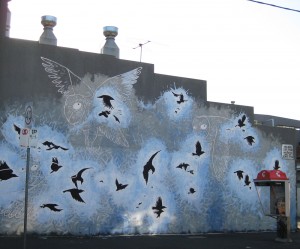 This piece decorates the wall along the side of Westbury Street as it intersects with Carlisle Street in Balaclava. I love it.  I don't miss the vibrant wake-me up colours.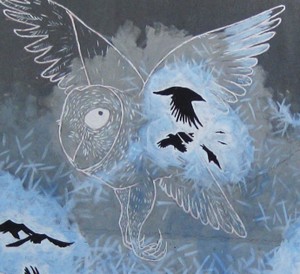 It is perfect for a Melbourne summer.  It grabs the eye as you drive or wander along Carlisle Street.  There is something cooling and relaxing with the blues and blacks, the birds flying and the owl's eyes all knowing – calming, on 35 degree day.
As I photographed it the garbage was being collected.
"Better that, than the other one,"  offered one of the collectors .
"I can't remember what was there before," I admitted.
"A sort of tree house – wasn't great. This is better!"  Then he rolled another garbage bin into place.
I could see that a 'sort of tree house' may have been appropriate.  It is on the side of the Treehouse Lounge that has been on that corner for a couple of years.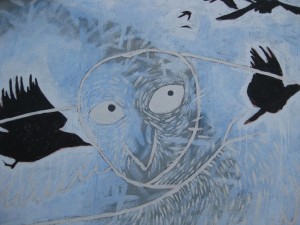 Carlisle Street is always a hive of activity, especially on Saturday.   If you are among the shoppers or just heading to one of the cafes take a moment to glance at this urban street art and see what you make of it – what vibe you get from it.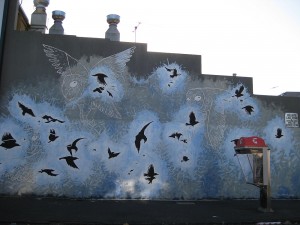 Artist:- Oliver Wilcox
www.oliverwilcox.com
Where:-
Corner Carlisle Street and Westbury Street.
Getting there:-
Train – Sandringham Line to Balaclava Station
Tram:- 3 or 16 from the city