Brumby's Bakery in the Albert Park shopping village has taken street art to a new level.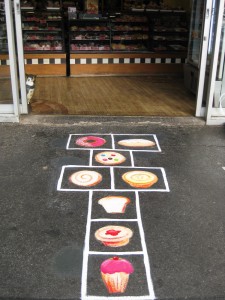 This is a unique way to enter their shop – a couple of hops, a couple of jumps and you are there.
It is a way for the kids to entertain themselves after they have finished their Baby-Chino at a neighbouring cafe.
Where:
Brumby's Bakery
113 Dundas Place,
Albert Park
Getting There:
Tram No 1 takes you to the Albert Park Shopping Village