The Hotel Albion is said to be 'recognized as a Port Melbourne Landmark'.  I'm not sure why this is because its architecture is the same as many corner pubs in the area – solid and square with little decoration.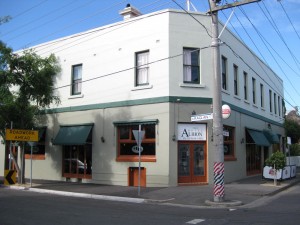 The facade is even plainer than many pubs around Port Melbourne, Albert Park and South Melbourne– see the post on Hotel Nest.
Someone may know something of the Hotel Albion's history and what makes it remarkable.
It has had a bit of a make-over but it still retains the 'pub atmosphere'.  There is a Bistro Bar, a fine dining area and a room that can be booked for grander functions.
At the moment it is remarkable for its 'local's nights'.
On Monday and Tuesday all items on the Bistro Bar menu are $14.50.  The menu is on the wall and you order and pay for your food at the bar; Pub style.  With a $6.0 glass of the house wine which is better than a lot of house wines you have a meal for $20.50 that is  excellent and several cuts above the usual Pub fare.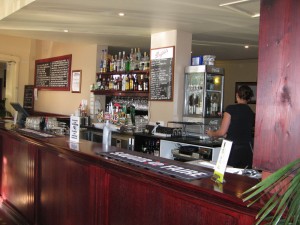 It is tempting to go for the most expensive thing on the menu, that's the  Steak of the Day usually at $24.00.  That is very good and the Hotel Albion makes the best hamburgers I have had for a while.  The usual price for a beef or chicken hamburger is $17.50 so not such a great bargain at $14.50 but I love the hamburgers.
The Albion serves superior bar food.  On Monday and Tuesday  the food looks and tastes like the steal it is.  The place obviously employs a good cook.
These meals have all been given a large tick by the diners  who ate them and who would order them again.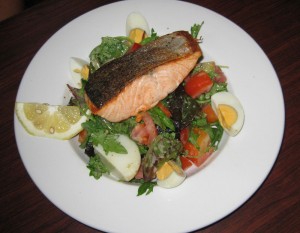 Grilled Atlantic Salmon with Nicoise Salad.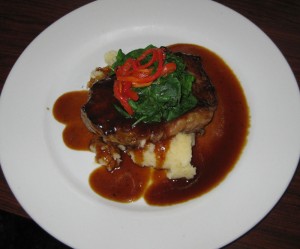 Steak of the day with mashed potatoes and red wine gravy.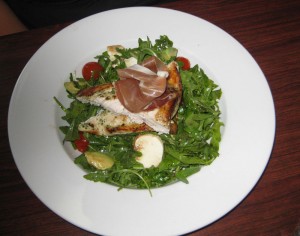 Grilled Chicken, avocado, prosciutto, and salad.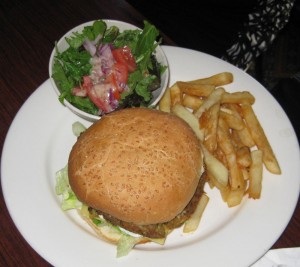 Falafel Vegie Burger, and salad

This is casual eating and on Monday and Tuesday the place is crowded.   The Bistro area has groups of locals and families and can be busy and noisy.    For some reason the area around the central bar is designated Bistro and Fine Dining.  For the cheap Bistro meals you need to sit at a table without a white table cloth.   The table cloths are for fine dining and there is a separate menu.  This is a nuisance because the tables covered with pristine white starched linen are the ones that are empty.
If you feel like good food, good prices and a local pub atmosphere head for the Hotel Albion at 146 Evans Street; on the corner  Raglan and Evans Streets, Port Melbourne.
There is a tram stop outside in the Turner Reserve. You can hop off the tram eat and then jump back on again for a walk around Port Melbourne.
October 2012 – UP-DATE:- I have updated this entry see here.
Getting there:-
Tram  109 to Port Melbourne.  Get off at stop 127 called North Point. Cross Turner Reserve and you are at the Albion Hotel
Opening Hours:-
BistroBarOpen from 6.00pm to 9.00pm daily except Sunday when it is closed
Monday and Tuesday are the Local's Night Special