A wet cold lunch time in Brunswick and where do you eat?  I'm sure there are hundreds of places but we happened to be more or less outside the Vietnamese cafe, Green Field Asia Restaurant.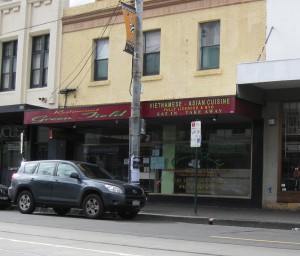 If you want ambiance and decor then the Green Field Asia Restaurant is not for you.  This lack of atmosphere makes the first impression a bit bleak on an overcast, raining and chilly day in Melbourne.
There were a number of people inside who had escaped the rain and this gave the rather cavernous space a happy buzz.  Our table near the front and the window was cleared of detritus from the previous occupants and we sat down to study the menu.  The menu is much like any other Vietnamese eating place – Vietnamese with touches of other areas of Asia.
We ordered:-
-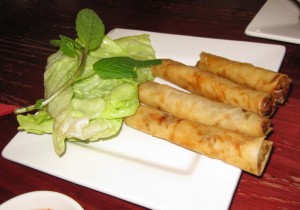 Vegetarian Spring Rolls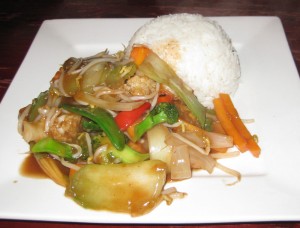 Tofu, vegetables and Mongolian sauce.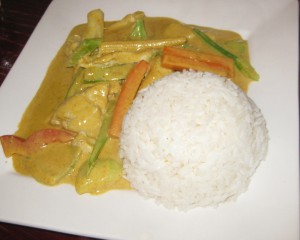 Chicken Curry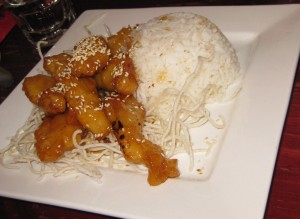 Honey Chicken – this dish was superb.

What makes this cafe/restaurant a standout is the freshness of the ingredients, their claim on the menu that they don't use MSG  and the price for the quality of the food.
The food can take  sometime to arrive at your table.  After a bit of a wait we realized this was because there was a great trade in take-away and our order was in the queue.  If you want take-away my suggestion is to ring first and order.   I also wonder if you planned to eat in and know the menu whether it is worth ringing and placing an order.
It is a good place for lunch if you are in the area or work near with most dishes priced at about $7.50 including rice.  The spring rolls were 5.00
They have Pad Thai on the menu.  One of my favourites.  I'll try that next time and I am told that the salt and pepper squid is good.
Where:-
Green Field Asia Restaurant
378 Sydney Rd
Brunswick Phone 9380 8222
Hours:-
Monday to Friday  12.30 to 3.00pm & 5.00pm to 10.00pm
Saturday          12.30 to 3.00pm & 5.00pm to 11.00pm
Sunday closed for lunch opens for dinner 5.30pm to 10.30pm
Getting there:-
Tram no 19 – the restaurant is on the right just before Albert Street and the ANZ Bank
Car There is one hour parking in Brunswick Street.