I lunched recently with friends at Lau's Family Kitchen.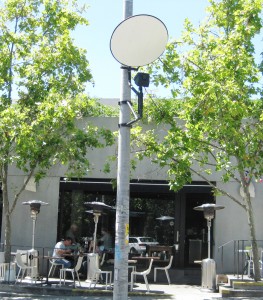 Outside Lau's Family Kitchen, Acland Street
For me the restaurant has lost its edge.  The service was amazing and the staff very knowledgeable and helpful but the place looks tired.  The wall opposite where I sat was covered in black scuff marks – rather like the inside of a wardrobe.  I wondered how they got there – no one throws shoes at the wall and these marks show above the couch which won't have caused the marks – interesting.  There is another wall that is quite beautiful that is covered in a large wall hanging of Asian fabrics.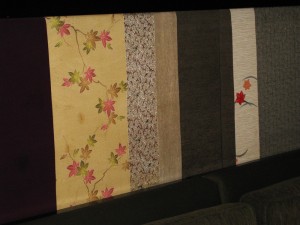 This is not your cheap Asian cafe that you find in Richmond.  This is classy dining and I believe a view of scuffs marks is unacceptable. I wanted to get up and paint them out.
I remember a visit for dinner not long after it opened.   The food was expensive but special.  This wasn't the case at lunch.  The food is still on the pricey side but not out of the ordinary.
One of the entree specials was a New Zealand whitebait omelette. My eyes lit up and I started with this.  It is sometime since I had New Zealand whitebait.  I was disappointment but I think this could have been my expectations.  The whitebait resided in a rather thick egg mixture.  Whitebait are delicate; you could almost say tasteless creatures.  They need to be lightly bound together so their flavour can dominate.  I think the word omelette should have warned me so probably this dish did represent the description on the menu.
After the whitebait entree things began to look up.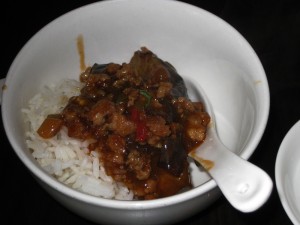 Yu Heung
Yu Heung,  a special on the menu, is described as  a tradition Szechuan dish of braised eggplant and minced pork with a touch of spice, served with steamed rice.  This was pronounced to be delicious by those who ordered it.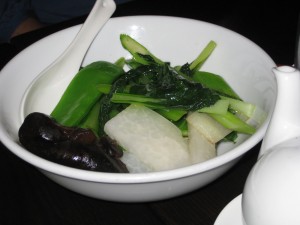 Steamed seasonal vegetables
The seared beef  with steamed seasonal vegetables was thought to be just right by my companion who is very limited in what she can eat.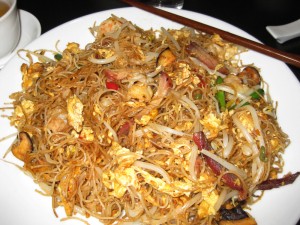 Singapore noodles
My Singapore noodles were good; dry with some noodles crispy.  I like that.  At $24.00 they could have had added a few more prawns and barbecued Pork.
We didn't have dessert.  All in all it was a pleasant lunch with good food but not brilliant food.
I believe the lunch menu is different from the dinner one.   If you wish to eat here dinner could be more interesting.  Most of the reviews -check some here – are for dinner.   I hope someone gets busy with a paint brush.  The toilet door could do with a couple of coats of paint, too.
Where:-
Lau's Family Kitchen Restaurant
4 Acland Street
St Kilda
Phone 8598 9880
Opening hours:
Monday to Friday and Sunday
12.00pm – 3.00pm 6.00pm – 10.00pm
Saturday
6.00- 8.00pm
The evening is divided into two sitting 6 – 8pm and 8 – 10pm
Getting there:
The restaurant is at the Fitzroy Street end of Acland Street
Trams:-
16 and 96 get off at the beach end of Fitzroy Street