Can you go past a bargain shop without popping in?  I can if I'm in one of the many shopping areas that have Two Dollar or Bargain cum Gift Shops dotted along the strip.  You've seen one you've seen the lot.
In Victoria Street, Richmond the Two Dollar Bargain and Gift Shops are different.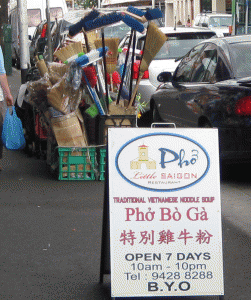 They can look the same outside. A collection of brooms and door mats and so on parked on the pavement but inside they are a treasure trove.  You step into another world.  I sometimes go to Richmond just to browse through them.  It's an outing all on its own.  I wander over there just to gaze, buy a few things  and to  remind myself of exciting and happy visits to Hong Kong and  Ho Chi Minh City.
This area is unique in Melbourne and if you were whisked there from outer space you could be forgiven for thinking that you had arrived in Hong Kong, or Ho Chi Minh City.
There would be a moment of disorientation. Only a moment – it is quiet on Victoria Street compared with either of those vibrant cities but the ambiance is the same.    The Bargain Shops say it all.  There is much to experience.
One of my favourite purchases is this tea pot and mug bought from different shops at a total cost of Just over $18.00.  A good bargain.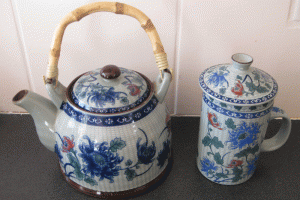 The tea pot has a strainer inside – the first time I have seen that. I like leaf tea and I can make a pot of tea when I wake up and then drink it as I get ready for work without it stewing and getting that bitter taste that stewed tea can get when the leaves sit in it too long.
It's my favourite pot for green tea too but I drink that from this lovely yellow chrysanthemum mug.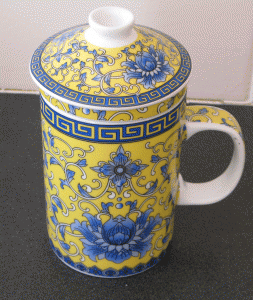 I keep looking for a tea pot to match the mug.  No luck so far.  If you see one let me know.
I haven't bought a lucky tree yet but I fancy one for the front porch especially at Chinese New Year.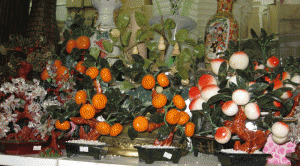 Voices in my head tell me if I bought one of these colourful trees it may bring me luck.   The same voice tells me that if I bought a lucky a cat with his paw up and waving my fortunes would improve. A more prosaic voice tells me we make our own luck.  But there is no harm in giving luck a helping hand.   Luck overflows in the Bargain Shops along Victoria Street Richmond.  And I am going to buy a lucky tree next Chinese New Year.
Remember to let me know if you see a beautiful chrysanthemum mug – perhaps there is another place in Melbourne I could try.
Getting There:.– Victoria Street Richmond
The 109 Tram from Port Melbourne goes along Collins Street – through the CBD and then along Victoria Street in Richmond.
The 78 Tram runs the full length of Chapel Street from the St Kilda East, through Prahran into Church Street and terminates at the corner of Church Street and Victoria Street, Richmond. This is a great tram if you live along the route.
There's one hour meter parking in Victoria Street.