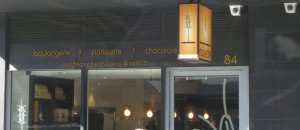 Winter afternoons are a great time for coffee and cake – well any afternoon but in winter I am more comfortable about indulging myself.   A reward for being out and about in the chill of the afternoon.
If you are out and about in  Port Melbourne and feel the need for such a reward a great place to go is Noisette Boulangerie Patisserie at  64 Bay Street Port Melbourne.  It is a good place to head for after a brisk, chilly walk around Port Melbourne or Beach Road.
People who know says that it has the ambience of France.  It is  long and narrow and decorated in  winey-purple and yellow with wheat as a sort of  emblem.
You stand at the counter and gaze at the cakes while you make a decision.  I admire the staff's patience because choice is difficult.
Noisette's Honeycomb Mousse
This is a conversation I over-head when I was there last time.   "Should I  have…… no not that one!  No, perhaps this one???   What are you having Jude?"
Jude points to a lemon tart.
"Oh I wonder if I want that?."
There's not even a sigh from the good looking guy behind the counter. He holds the tongs waiting for her.
" I'm deciding between the lemon tart and a brownie.. I often have a lemon tart and the brownie looks so good. I just don't know."
Perhaps patience only goes so far.  "I'd have the brownie if I was you," said the handsome waiter as his tongs sweep a Brownie out of the display and  onto a plate.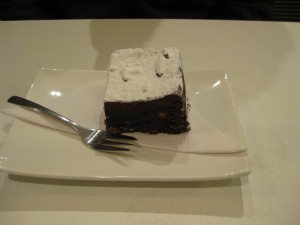 The brownie is delicious and heavy with chocolate.
I have lunched and breakfasted here and the food is good.  For lunch, filled baguettes, rolls  and croissants.  Remember they make their own bread so these are special.  My favourite breakfast is a bowl of milky coffee (French style) and an almond croissant, full of lovely almond paste.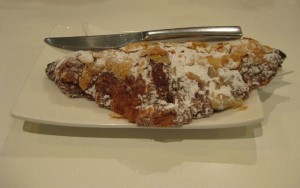 Noisette Boulangerie Patisserie is a family run business.  The family have been in the baking business since 1875.  The history is on the wall.
The best tram is the 109 to Port Melbourne.  You can pick it up on Collins Street in the CBD and go to the end of the run, then stroll along Beach Road to Bay Street.