If your idea of heaven is whiling away a few hours amongst retro/re-cycled/vintage clothing and collectibles, then head for Lost and Found 12 Smith Street, Collingwood.
It is said that one person's trash is another person's treasure.  The odd thing is that there is so much 'treasure' left around.  When you walk into Lost and Found you think you have found all the collectibles left in the city because there is so much 'stuff'.  It is an Aladdin's cave.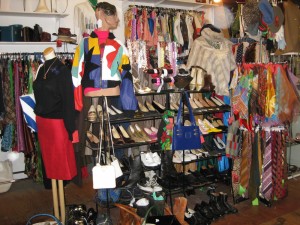 The building itself is Vintage.  Something out of a horror movie – except it is full of light rather than shadows but you could get lost in the same way.
You enter on the ground floor and there are staircases disappearing up and down in all directions.  There are little alcoves, recess, and hidden nooks where ever you turn.  It is fascinating and I couldn't stop taking photos.  You may think I'm posting too many but you may see something you want in the photos.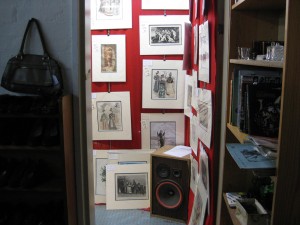 At first glance this could be a very well run Op Shop but instead it is a bazaar filled with different stall holders.   Down stairs there are pieces of the Scandinavian-style furniture that was so popular in the middle of last century and you can find smaller pieces of furniture hidden away behind a rack of vintage clothing and the collectibles.
Last time I was there I found myself wanting to collect those standard ash trays that stood beside your chair and you pushed a button on the top to whiz it around to take the ash and the butts into the bowl.   I don't smoke.  It is a childhood memory from relative's houses that attracts me.   I loved pushing the button.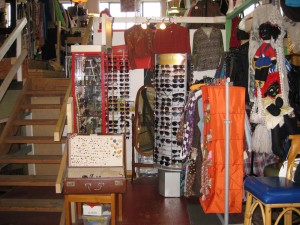 Stall holders tend to stay once they have secured some space.  I believe there is a waiting list of over 100 would-be stall holders wanting a spot.
There's a good turn-over with more stock arriving regularly and the Vintage clothes are wonderful but I'm not sure about the macramé wall hangings.  Should they have been found or stayed lost?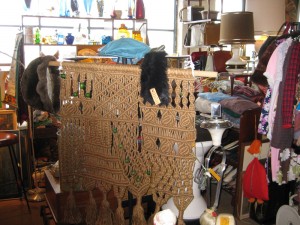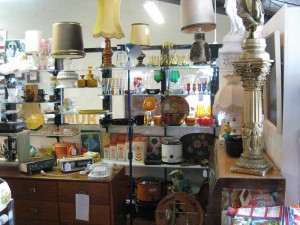 Lost and Found Market 12  Smith Street Collingwood is open 7 days from 12 noon to 6pm.   Phone 9419 4477
Take the 109 Tram and get off at the corner of Victoria Street and Smith Street it's a few doors up on your right.  Or the  86 or 95   Tram and get off on the corner of Gertrude and Smith Streets and walk down towards Victoria Street.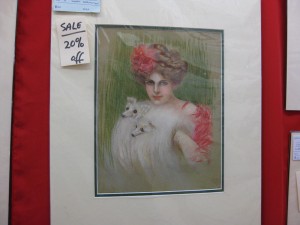 Edwardian Poster – one of the many on sale.