The head office of a company I worked for was in Park Street, South Melbourne, across the road from Chimmys.
Chimmys was the place to grab a coffee before racing to a meeting or a training course.  The Head Office moved and I forgot about Chimmys until recently when I was in Park Street and wanted a coffee.  I remember it always being busy on those work-day mornings and it was busy on the recent Sunday when I popped in.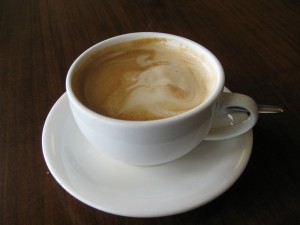 The flat white doesn't have any pretty designs but it has the silkiest milk I've tasted for a while and the coffee is the best.

To me the cafe has a French feel, and the man who makes the coffee a Gallic charm – you need to experience this charm for yourself.  Perhaps it is just European ambience and charm but I like to think of it as French. The filled baguettes reinforce the French ambience .
The interior says, "It's all about the food!"  That is, it is not decorated.  There are two large rooms with a wide doorway between them, dark brown tables, pale cream walls and sort of  orange/brown lino tiles on the floor. Relaxing?  Not particularly.  The best place to be is outside under the veranda .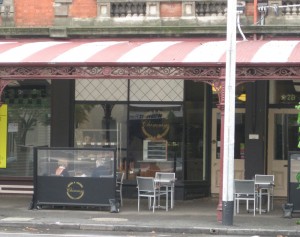 Most of the first room is taken up with display cases and one end is given over to the ovens with a row of tables along the remaining wall.   The second room is the cafe area with tables spaced so you feel separate from your fellow coffee drinkers.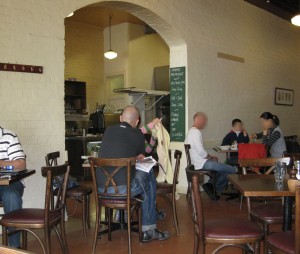 The cafe is popular with locals. This is a breakfast and lunch place.  By mid afternoon most of the food has been sold.  This is a good thing because you know everything is made the day you buy it. The baguettes with egg and bacon are just as good at breakfast as they are for lunch and if you just want a coffee try a raspberry shortbread with it.  Delicious.
Then there is the bread.  I bought some  bread 'pain de campagne' and I will be back for more and I'm told the 'seven grain' bread is delicious.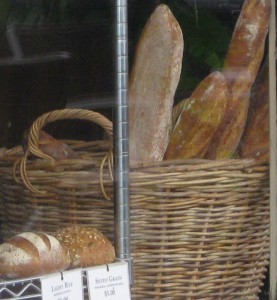 For a Francophile this tiny area of Park Street, South Melbourne is a good place to hang out.  Manon is at 294 Park Street and then further towards Clarendon Street on the other side there is Le Metro,  Byoux et Accessories, at 231 Park Street. The shop is a French experience. Check it out here
Getting there:-
The number 1 tram goes past Chimmys on its way to the South Melbourne Beach.  You can get off, buy a filled baguette and a pastry and perhaps a take away coffee, get on the next tram and picnic at the beach.
Chimmys info and opening hours:-
They serve a cooked breakfast from Wednesday through to Sunday.
They open from 7am every day of the week.  In the weekend they close at 3pm and during the week 4pm.
You can confirm hours etc:- Chimmys phone 9696 7418