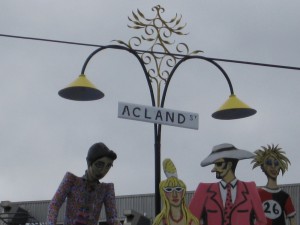 Acland Street is  a street alive with people and activity.  When you're in Acland Street the vibes are positive and you know that the world is still revolving.  Acland Street is a street that brings you alive.  That's how I feel about Acland Street.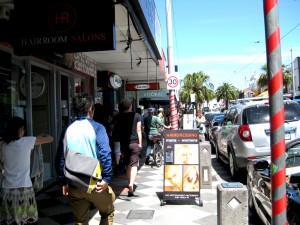 My first visit to Acland Street was about 10 years ago.  I was a tourist and like so many tourists to Melbourne I made a pilgrimage to St Kilda.  The day was perfect, the sea was calm, it was ideal for exploring Acland Street and eating a cake with coffee.  The place was alive.
That was the time of the  'Secret Life of Us' on TV  and St Kilda had an aura of excitement and expectation.  It was a place where anything could happen.  I still see it like that – alive to possibilities.
Acland Street has changed in those 10 years.  I read articles where lovers of the area lament the changes but to me this is part of life – everything evolves.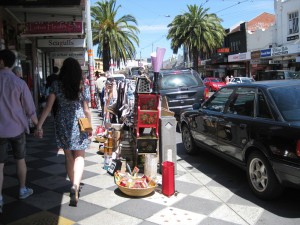 However some things have stayed the same.  The cake shops are still there as they have been for decades and I can't see that the cakes themselves have changed – the same recipes.    Hairroom the hair salon with the wonderful roof – top decoration where once I had my hair styled by a New Zealand hairdresser from Palmerston North has stayed.  The book shop still hums but it is now Readings and not Cosmos.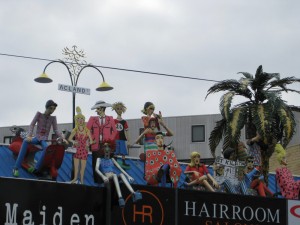 This sculpture is on the roof of Hairroom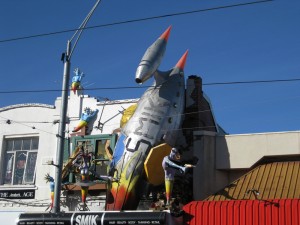 Remember to look up!  This roof sculpture is opposite Hairroom.
What time does Acland Street wind down? I 'm not sure but at some time the place quietens and in the early mornings it takes a while to wake up.  This photo of the palm trees was taken  on the Readings/ANZ corner at 8.ooam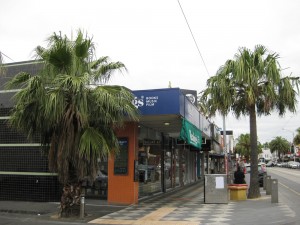 By the mid morning the cafes are  full.    Some like Vibe and Big Mouth I remember from ten years ago.   Others are new.  The ice cream shops have multiplied ( and I see there is another about to open)  Sheherazade has gone and so has La Porchetta.  La Porchetta is a place I miss.  The first Pizza I ate in Melbourne came from there.    The Vineyard, after a number of battles with council, is still there.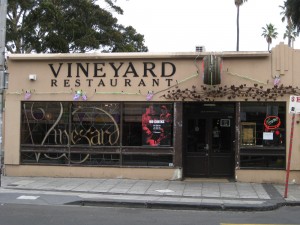 During the quiet and peaceful time in the surrounding suburban street over the Christmas and the New Year break Acland Street has shown that world is still humming.  I walked down there to check this out and the vibes  can still make me think I am in the centre of the world and there is nowhere else to be.
Acland Street is worth visiting again and again – this is a place to feel alive and to feel that you are part of the pulsating world of action.  It give us the chance to rejoice in being a  city dweller.  And it keeps on keeping on.  If one business goes another takes its place – the street stays alive.
Getting there:-
Trams:- 16 and 96 and No. 3 in the weekends