The Johnston Collection in Melbourne is secret.  Well, not really.  Although I heard about it only recently and was surprised no one had mentioned it to me before.  It is worth mentioning because the Johnston Collection is unique.
Because of its location in suburban Melbourne the address is a sort of secret.  This is so tour parties can collect at a Melbourne hotel and be transported to the house, where the collection is on show, in a bus that belongs to the Johnston Collection. It seems the local residents don't want people coming and going.  It is that sort of street.
Sadly no photographs are allowed.  This is because of the insurance cover.  However photos can be seen on the Johnston Collection web site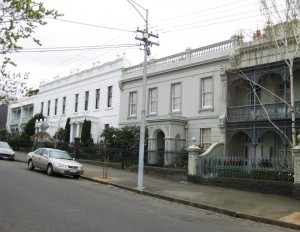 William Johnston's house is among elegant town houses like these.
This collection is the work of one man, William Johnston.  It  is made up of antiques, curios and quirky pieces that represent the various passions of this astute and charming man who loved beautiful things and collected them. William Johnstone died in 1986 and left his collection, and his houses to the Victoria State Government.
The collection is huge with a large part of it being stored in a warehouse near Government House.
The current exhibition has been arranged by the fashion designer  Akira Isogawa and is called 'Akira Isogawa Meets Mr Johnston'.
Isogawa had the run of the house and the warehouse to make the choices he wanted to use to give the house his touch and style, and to create his own ambiance in the rooms. This gives some of the rooms an Asian flavour.  However the curator has to work with the wall colours, the window drapes and the floor coverings.
The wall colours are Victorian so besides the Asian influence there is a touch of Victoriana  in every room.
The mood for the tour is set as you arrive through the charming formal garden and into a graceful reception room. You are offered tea or coffee in delicate English tea cups and a piece of home made shortbread.
William Johnston's life is discussed and his passion for collecting revealed.  His passion began when his grandmother gave him a delicate Minton tea cup that he fell in love with. This cup is on display on a bedside table in this exhibition.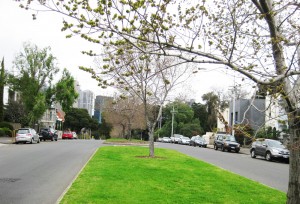 The streets in this part of Melbourne are wide with central nature strips.
If you do get to view the collection make sure you see the courtyard garden.  It is lovely.
I am going to keep the faith andkeep the address a secret. It is such a pleasure to be allowed to view these beautiful things that I would hate to spoil it by upsetting any of the locals.
Information:
Akira Isogawa Meets Mr Johnston runs until 20th October 2010
My Cup Runneth Over: Christmas at The Johnston Collection 2010
3rd November – 25th February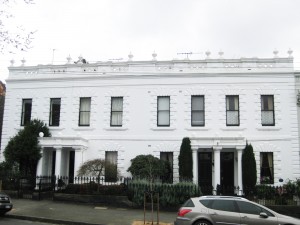 A very charming local house.
Visitor Admission:-
Weekday Tour Times:
Guided tours at 10.00 am, 12.00 noon and 2.15 pm.
Weekday Tour Cost:
Adults $22.00
Concession $18.50 (Seniors, Pensioners & Students)
Contact:- Phone 9416 2515
http://www.johnstoncollection.org/index.html