Albert Park and Albert Park Lake have moved into spring with the cutest and most  beautiful baby swans (cygnets) sifting through the grass and gliding around on the lake. Some are very young – just balls of pale grey fluff and it is amazing to see them staggering about on their little legs.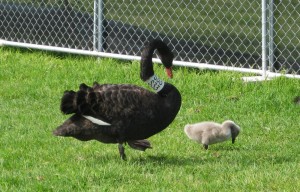 One family of five looked much more graceful floating on the calm waters of Albert Park  Lake.  They appear older and more sophisticated that their cousins who are still on land.  When they see you they swim over and then float near the edge – to be admired or hoping for some food? It is hard to know.  I didn't have any food with me and they are very beautiful.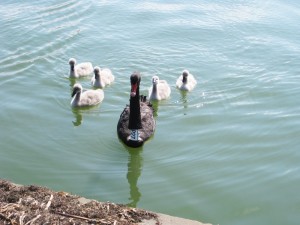 Both the swan parents hover over them.   It is lovely to see Dad doing such a good job of parenting.  It is said that swans mate for life and that they are very faithful and loyal.  I'm curious to know where the  families with very young babies  sleep.  The up-grade to the park has fenced off great chunks of grass.  Some of the older ones seem very happy to get some sleep-time during the day while they float about.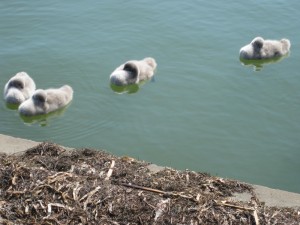 It is always busy around the Albert Park Lake with walkers and joggers but this year it is a construction zone.  The area near the Carousel is being up graded.  The new swan parents are taking this in their stride.  They seem in no hurry to move their young out of the way.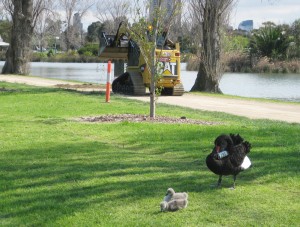 Now is the time to see these young cygnets – they have the magic that all the very young have.  They are cute balls of the softest feathers. But they grow quickly.
I found the best place to get close to them was near the Carousel.  I photographed these ones there. The cafe at the Carousel is a pleasant stopping off point.  See my previous positing about the Carousel's food – nothing has changed.
Getting There:-
The Carousel, (where I took these photos) is at  22 Aughtie Drive,  Albert Park Lake.
The easiest way is by car and as a bonus it is $2.00 for all day parking in the weekend. This is not the same during the week.  Be prepared to pay more.
Tram 96, the light rail, takes you along the back of the Park.  Get off at the Wright Street station and walk across Albert Park towards the lake.
You can also take any tram that goes down St Kilda Road as far as the St Kilda Junction.  Get off at High Street and walk to the park from there. As High Street crosses St Kilda Road, it becomes Lorne Street.  You walk down Lorne Street to the Park and the lake. The Carousel is on the other side of the lake.