The Alister Clark Memorial Rose garden is one of the highlights of a visit to the St Kilda Botanical Gardens, in Blessington Street.
It is autumn now and many of the roses are still in bloom – pruning hasn't started yet so there is still a lot to admire – and smell.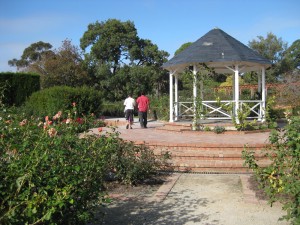 The garden is laid out with a pretty gazebo in the centre – a popular place for weddings.  Chairs are brought in for a wedding but there are plenty of benches dotted around the garden.  They makes a perfect place to relax, read, contemplate or people-watch.  The area is protected by a huge and striking macracarpa  hedge.  Even on a cold day it feels warmer sitting in the rose garden with this thick hedge surrounding you. You'll find many people agree and on sunny but cold winter's day, it is often hard to find a spot on one of the benches.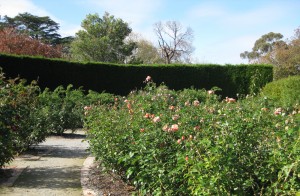 I am sure it is a macracarpa hedge but there is no identifying notice.  I find it disappointing too that the roses aren't named.  However this may not be a problem if you know Alister Clark's roses.   A number of them are attributed to him. And of course you can still enjoy them without knowing their names.  Smell them too.  Many have a beautiful perfume
If you tire of St Kilda Beach, the crowds, the cakes in Acland Street and the noise take a stroll up Blessington Street.  Blessington Street is at the southern end of Acland Street -at the end of the 96 Tram line. It's only a couple of minutes to Botanical Gardens.
If you want to give Acland Street a miss you can get the 67 Tram and get off at the corner of Carlisle Street and Brighton Road and walk up Blessington Street – on your left, just off Carlisle Street.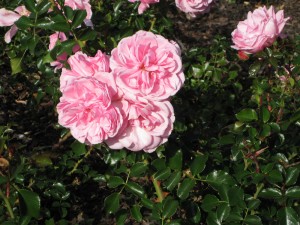 This rose is in full bloom at the moment.  It is stunning.  If anyone recognises it please let me know it's name.