Something wonderful has happened to the roses in the Alister Clarke Rose Garden in the St Kilda Botanical Gardens.  Well, it is wonderful to me.  Some lovely person has identified these roses and now they have name plaques.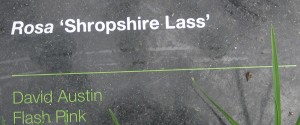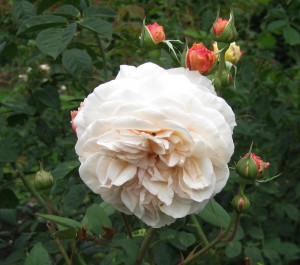 There is something about looking at a rose and knowing its name.  It adds an extra pleasure.  With no names it's like a never ending sea of flowers. There is no way to distinguish one from the other.  I like to isolate the individual. I have mentioned the lack of names before see here. And see Ester's comment.  I hope it has been a labour of love and my thanks to Ester.
It is also fun to see the names the rose breeders have come up with;  Dolly Parton for example.   Would you have guessed the name by looking at the rose?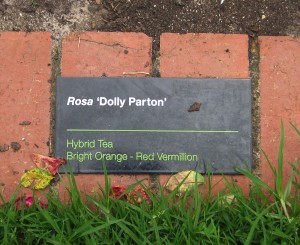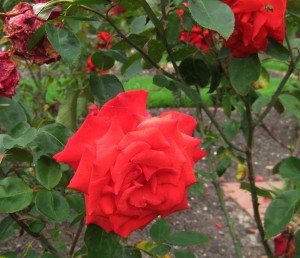 Then there is Apricot Passion – it sounds like a wallow in a mango.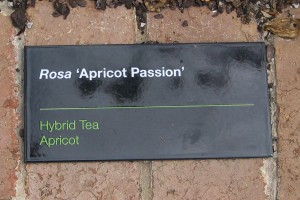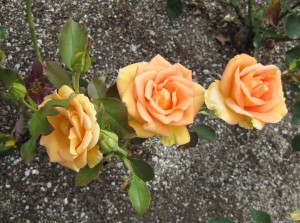 Reading the names as I did the other morning, showed how many of the roses had been propagated by rose breeder David Austin.
Then there are those attributed to Alister Clark and of course it is his rose garden.  This name of his is a puzzle.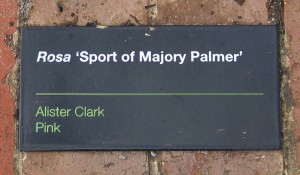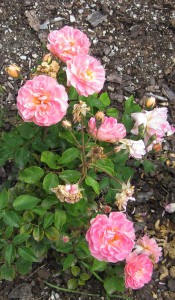 I thank the 'Rose Namer'.  It is lovely to become acquainted with these roses  – it's a pity the prickles prevent a handshake.
Where:-
St Kilda Botanical Gardens
The gardens are open from sunrise to sunset (from dawn until dusk) seven days a week.
Getting there:-
96 Tram to the terminus the end of Acland Street. Walk up Blessington Street – on your left.
67 Tram to the corner of Brighton Road and Carlisle Street and walk along Blessington Street -on the right off  Brighton Road.