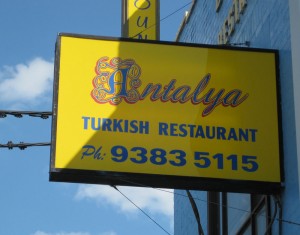 The  Antalya Restaurant serving Turkish food at 233 Sydney Road Coburg is the genuine article  The Turkish food is as good as you would get it in Turkey.  I have this on the authority of a fellow diner who had recently returned from Turkey.  The place felt authentic. It felt comfortable and had an edge of homeliness.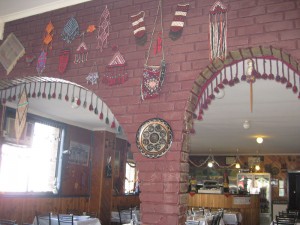 It is a friendly place with Turkish memorabilia on the walls – mostly from the Antalya region.  The staff is friendly and you are welcomed in rather as if you are entering someone's home.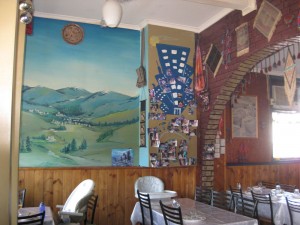 The menu is not extensive and I see this as an advantage.  Each dish can be prepared and it doesn't have to rely on ingredients from another dish.   One of our party lives in the area and dines there often. He directed the ordering.
To start  we shared a couple of plates of the mixed dips.  The bread was exceptional and the standard selection of dips were very good.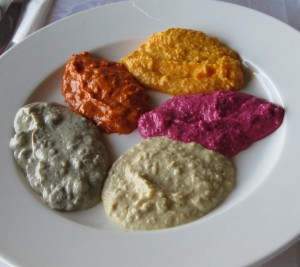 These were followed by shaved lamb as for doner kebab, served with yoghurt and a salad.  The lamb was delicious – the best I have tasted.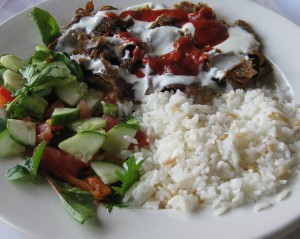 Potato Salad an up-market and tangy version of the often bland mixture.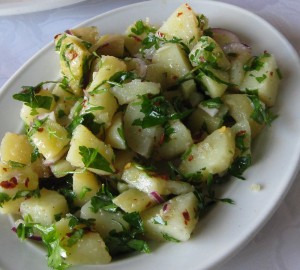 Tabouli that was crisp and I swear was made just before it was served.  It is one of my favourite salads and I usually make do with the supermarket version – this one was a real treat.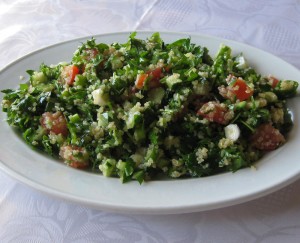 Spinach and feta pizza this Turkish pizza is not what you would recognised as a pizza.  It was a filling of spinach and feta wrapped inside a dough, flattened and baked.   A little greasy but good.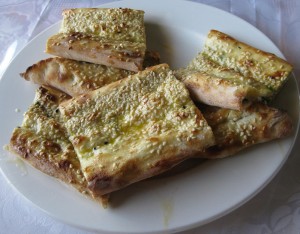 We left to have coffee and desert elsewhere.  These are flavours that stick in my mind a couple of days later- the lamb, tabouli and the potato salad.
My only complaint is that the white table clothes are covered in plastic. So while you are sitting there your arms sort of sticks to it.   Easy of course to wipe and it keeps the laundry bills to a minimum.  That is a very minor complaint.
Where:-
Antalya Restaurant, 233 Sydney Road, Coburg.  It is on the corner of Reynard Street.
Phone:- 9383 5115

It is B Y O.
Opening Hours:-
It is closed all day Tuesdays
Wednesday it opens from 5.30 until late
Thursday, Friday, Saturday, Sunday and Monday it opens 11.30 until late.