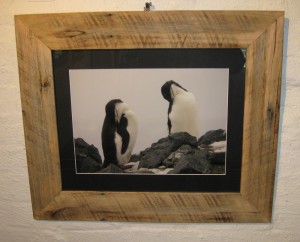 This photo of penguins in Antarctic by Lisa Davidson is on display in the Foyer of the Gasworks Theatre, Albert Park.
There are two galleries in the Gasworks Theatre.  The foyer of the theatre is used for exhibitions and then there is the Angela Robarts-Bird Gallery.
The exhibitions in the foyer rotate regularly usually about every two  weeks so it is easy to miss something on the other hand there is always something new to see. The ones in the Robarts-Bird Gallery often last longer. The exhibition at the moment is called Nordic Ecolog, interesting but not as striking as Lisa Davidson's photos.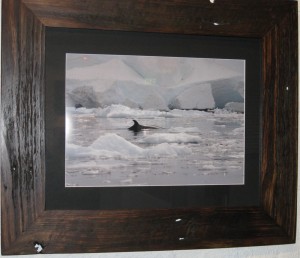 Lisa Davidson's  photos were taken on a recent trip to the Antarctic.  She traveled there with her mother after her father died of cancer to honour his memory.  He had worked as an engineer in that frozen continent in 1970.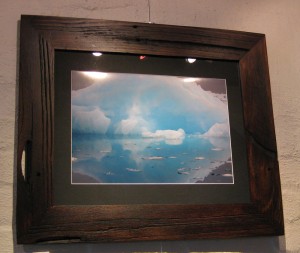 The photos fill the theater foyer and are wonderful;  evocative of the area and reflect a certain magic which must have been part of the photographer's experience.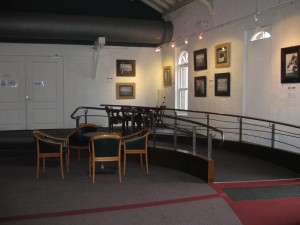 The photos are framed and can be bought framed or unframed with the proceeds going to the cancer foundation.
I particularly liked the way some of them are framed – those I have displayed.  The weathered wood some stained and some natural enhances the natural beauty of  that  untamed  environment.
Lisa Davidson has a charming business card featuring a seal – lisadavidson82@gmail.com is a contact for her.
Opening hours 9am to 5pm daily
For gallery contact – Sarah Rainbird
Visual Arts Manager
t: 03 8606 4206
e: sarah@gasworks.org.au
Getting there:
The Number 1 Tram, going to South Melbourne Beach. Get off at the corner of Richardson Street and Victoria Ave, that's at the Avenue Cafe. Face the beach and walk to your right along Richardson and you'll be at Gasworks Park in a couple of minutes. To get to the gallery you need to walk to the otherside of the park that is on Graham Street.
Graham Street runs through  from Victoria Avenue but only for foot traffic – if you are driving you have to use Pickles or Richardson Street