The St Kilda community has created a wall to bring people together rather than shut them off from each other.  They are calling it the Great Wall of St Kilda.
This wall is 11 metres x 5 meters and made of clay tiles, in total 807 tiles.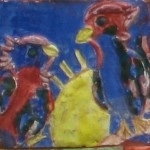 Two hundred and seven large tiles that capture characters and stories of St Kilda have been created by Australian Artist, Camille Monet.   Six hundred smaller tiles have been designed and made by local St Kilda people who she encouraged to get involved.  This makes the fascinating and creative wall truly belong to St Kilda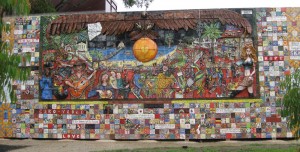 In an  interview with ABC Arts Programme, Monet said, "The mural caters for all sorts of people, including those in and out of homelessness.  It tells the real story of St Kilda and captures its diversity."
She says it turned out to be bigger than they expected.  She walked the streets of St Kilda, speaking to people and getting to know them so she could capture the ' real' St Kilda and get local people involved.
Each tile is unique and you can spend a lot of time just looking at them and taking in each message.  It's colourful and Monet believes colour represents St Kilda.


The Great Wall of St Kilda  is erected behind the National Theatre, on the corner of Carlisle Street and Barkly Street,  in the Talbot Reserve.  It covers what was an ugly Citypower wall that was the target of tagging  and old bill posters.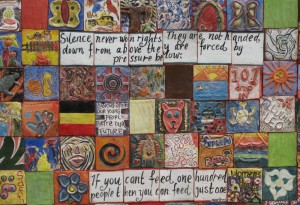 This mural is the final part of an up-grade to the Talbot  Reserve which has  included  new seating,  a children's play area, more paths, landscaping, lighting and a very stylish drinking fountain.
If you are in St Kilda wander into the Talbot Reserve and study The Great St Kilda Wall.   I'm sure it will become part of St Kilda's history.  It is a stunning idea and the wall is eye-catching and with so many contributors it is truly unique.
It is a feel good piece of art.
To see it you need to go into the Talbot Reserve  as the wall is somewhat hidden from view when you are on Barkley Street.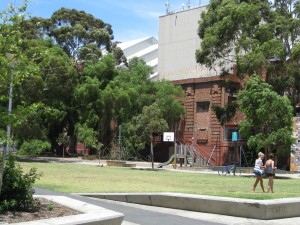 Getting there:
Melways  58  B10 – You may want to check this as the wall is hard to see from the road.
Tram 17  and  tram79  in the weekends – Get off at the corner of Carlisle and Barkly Streets.  Talbot  Reserve is behind the National Theatre.
Tram 96 – Get off at the corner of Acland and Carlisle Streets and walk up Carlislie to Barkly Street