Take a trip into Asia on a Melbourne Saturday morning.
Take the 109 Tram and head to Victoria Street in Richmond. The moment you cross Hoddle Street the atmosphere changes. You are entering a different world.
Many people call this area little Saigon.  I've been to Saigon but it's not Saigon to me.   To me it is Asia – crowds, shops packed with merchandise, no interesting window displays,  the inside chaotic, pavements congested with people and market style stalls.   On a busy Saturday at lunch time there is a high noise level, cafes bulging with eaters and everyone talking, trams rattling by and cars everywhere.  Noise! Just like Asia.
Have a look at 'Tatsing Food Store', 250 Victoria Street and smell inside –it has  one of the smells of Asia.  Dried fish?  It is hard to know.
The vegetables are as fresh as any you would get anywhere and I like the way they are grouped in colours.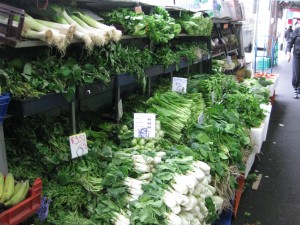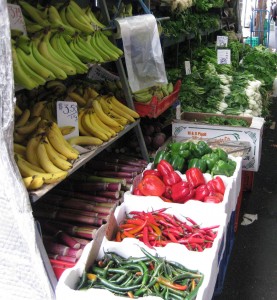 If you get off the tram at the Church Street corner you can wander back towards the city while you browse, window shop, crowd-watch and grab a bowl of Pho ( rice noodle soup with beef and chicken).  It is said to be the best in Melbourne along this street.  Try Banh Cuon Thanh Ha at 172 Victoria Street. It specializes in Vietnamese Hawker Foods'.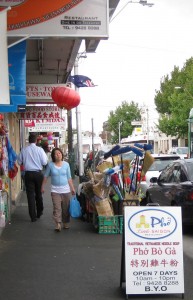 It is also said that while Bill Clinton was in Melbourne he had two bowls of Pho in the CBD.  Time restraints I guess, otherwise he would have headed for Victoria Street, Richmond.   Perhaps he had a home delivery to his hotel suite.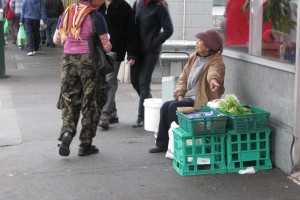 This lady is always there.  I wonder if she grows the vegetables she sells.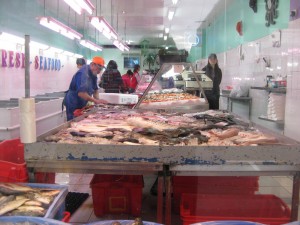 Asia is about food and there is an enormous variety of fresh fish on Victoria Street.
Latish on Saturday morning is a good time to go if you want the full sensation of a crowded downtown Asian Street. The crowd is very mixed and everyone is shopping for food.  I shop there for ducks and the ingredients for Peking Duck.  It is the only place I know to buy the wrappers.
The best way to get there is by tram.  The 109 Tram from Port Melbourne goes along Collins Street – through the CBD.
If you drive parking can be stressful with only 1 hour parking along the Victoria Street – that is if you can find a park. Weekdays are quieter.