This is an exhibition of frocks from 1855 to 1960.  It is interesting to see how design and fashion has changed over those 100 years.  Especially when you think it reflects enormous social and lifestyle changes for women.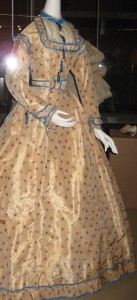 Day dress 1865-1870 sold in Geelong
The exhibition focused on where the dress was made and sold – that is what department store retailed it.
What I missed was how they were made especially those from the 1850s.  Very elaborate garments with tucks, ribbons, bows, flounces, puffs etc.  Who cut the patterns and  what sort of sewing machine sewed with such intricacy?  How much was done by hand?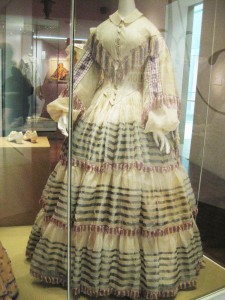 Handmade dress 1850s
We know that one garment was made completely by hand.  When you look at the frock and think about that, it is awe inspiring to consider the skill and time needed.   You would also need good eye sight – although I'm sure people wore glass in the 1850s.
We know that in the 1950s dressmakers used tissue paper patterns – they can still be seen in op shops and at markets but how did they cut the design in 1850s – the same way?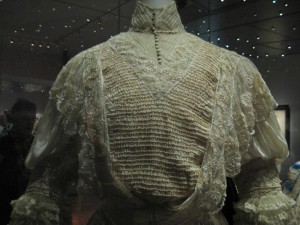 The bodice of a wedding dress 1907
It is interesting to note that the 1950s fashion was more restrictive and formal that that of the 1920s.   The 1920s garments are free and fun whereas the 1950s are designed to a 'female figure' with emphasis on the waist and full skirts with stiff petticoats.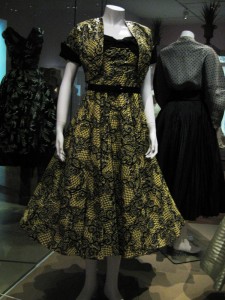 1950′s day dress with stiffened petticoat
A disturbing item in the exhibition is the cape made of platypus fur.  I worked it out that several of those charming beings gave up their life to make this cape.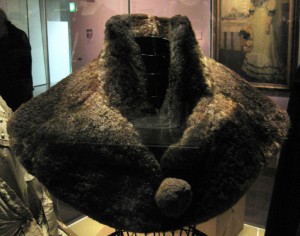 Cape of platypus fur 1890
There is also a glass cabinet of accessories with descriptions of each one.
Perhaps the success of an exhibition is that when you leave you want to know more – your interest has been roused.  I want to know more about the early frocks and how they were designed and how they were made.  I want to know what the very early sewing machines looked like and easy they were to use.
What:-Australian Made 100 Years of Fashion.
Where:- The Ian Potter Centre: NGV, Federation Square
Opening Hours:- 10.00am to 5.00pm daily, until 23 Jan 2011
Admission:- Free