Batch!  Why do  people chose the names they do for their businesses- I'm always curious about that?
Batch in Carlisle Street, East St Kilda !
When Batch was first mentioned to me and I heard that the owner was a New Zealander and that he uses a sort of Kiwiana  decor I immediately thought of New Zealand's basic, comfortable and often charming holiday cottage called a Bach and pronounced 'batch'.  I imagine it is possible to confuse the pronunciation with the composer Johann Sebastian Bach pronounced 'bark'.  Perhaps this lead to Batch – no confusion!  On the other hand the owner may have had a completely different reason for Batch. The cafe has the comfortable relaxed feel of a New Zealand 'bach'
Batch in Carlisle Street is a place for especially good  food and great coffee.  It holds it's own along this thriving strip of cafes, restaurants and takeaways in Balaclava.
Sunday morning is my ideal time for a cafe breakfast.  We head down there about 9.30 to find all the tables full but after a short wait we are seated at the window-bar watching the passersby.  We ordered coffee.  Coffee of Batch's usual high standard arrived with that lovely flower design on top of my flat white.  The pleasure of the design is partly why I order flat white.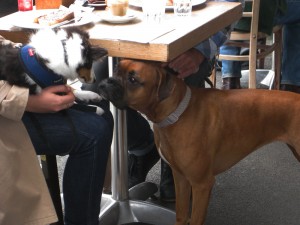 Dogs and their owners occupied the tables outside – this a very dog friendly area and we watched the entertainment as we sipped our coffee and waited for our food.
The menu has an immediate charm.  How can you resist lavender yoghurt or rose water salsa?  We couldn't.
We ordered:-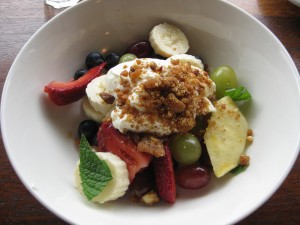 Fresh seasonal fruits with lavender yoghurt + almond maple crunch $9.00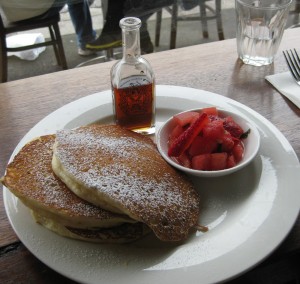 Buttermilk pancakes with watermelon + strawberry + mint + rosewater salsa with maple syrup. $12.50
Batch has been around for a few years – see an early review from Matt Preston in The Melbourne Age.
You can see why it is still thriving and bursting with people.  The food lived up to our mouth watering expectations.  The yoghurt was fused with a touch of lavender.  The pancakes were the lightest and fluffiest I have had for a while.  Too often they can be a bit soggy.  The touch of mint was just right with the salsa.
They also have Kedgeree on the menu for $14. And with pickled cabbage $15.50. Now, when did you last see Kegeree on a menu?
There are always flowers in Batch. At the moment they poke their heads out of this bright yellow  re-cycled notice.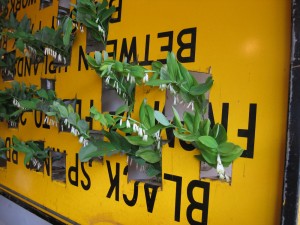 Where:-
Batch
1/320 Carlisle Street
St Kilda East.
Opening Hours:-
Daily from 7am to 5pm
Coffee from 7am and breakfast from 8am
Dinner Friday only 5pm to 10pm
Phone:- 9530 3550
Getting there:-
Train – Sandringham Line to Balaclava Station
Trams – 3 &16 Get off at the Balaclava Station stop.