Every month or so I drop into the Kirra Galleries in the Atrium of Federation Square to catch their latest exhibition.
This gallery is full of wonderful and magical glass. It specializes in Australian Glass and we're not talking wine bottles and chunky water glasses, we're talking delicate and whimsical designs made from hot glass by glass artists.  When you look at these works of art it is hard to believe that these artists use the same material that makes that empty vodka or wine bottle you chuck into the bin.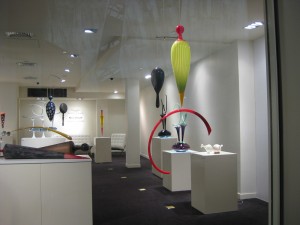 The exhibition at the Kira Gallery at the moment is the work of Nick Mount one of Australia's leading glass artists.  It runs until the 16th of August when it will be replaced with another exhibition of amazing glass sculptures.  The Kirra Galleries are all about glass.
These photos were taken from the Atrium looking into the gallery.  They give an idea but you need to see each piece individually. There is a 'no photographs' sign at the entrance to the gallery and felt I should respect that.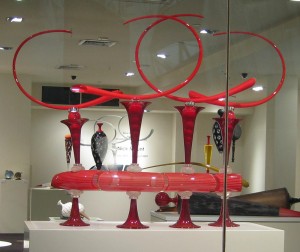 Since I found this gallery I have come to love their exhibitions.  The glass can be so mesmerizing.  Its beauty and fragility feeds my senses.  I need to keep getting the fix.
Nick Mount's  work is an example of what I'm talking about.  It is breathtaking  with clear vivid colours.    But there's no magic in the titles.  They're named rather prosaically.  The big red one in the front window is called  'Scent Bottle Combination Piece' and it has a number because there are many pieces with the same name.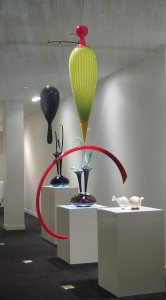 This one, my favourite, is called 'Bob in the Landscape'.  Such a dull name for something so beautiful.  I have gone back to look at this piece a couple of times and I would love to know who buys it and where it is going to hang.  I thought of a large  vestibule but it would need to be high up or you would have people wanting to touch it and fiddle with it……I  thought of my place, there is no harm dreaming but there isn't a spot that comes to mind that would show it off.   Where do you hang these beauties other than a gallery?

The gallery has a shop next door selling smaller glass items. Creations that you would find a place for in the home.   I have bought several presents here. You don't have to spend a lot to get something unique.  For example there are some charming glass earrings.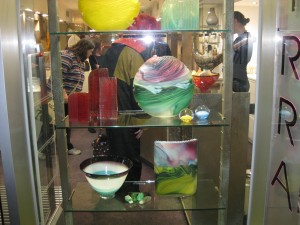 Getting there:
The Atrium in Federation Square opens off Flinders Street.  This is the easiest way to access it but you can enter from the main square.
Kirra Galleries  opens  from 10am to 6pm every day.  Check out their web site here