During the wine and food festival the Express Lunch promotion was a good way to check out a top restaurant at a reasonable price.  $40 with a glass of Australian wine.
Our first booking was at Bristo Guillaume in the Crown Entertainment Complex, with its wonderful location on Southbank and its striking entrance way.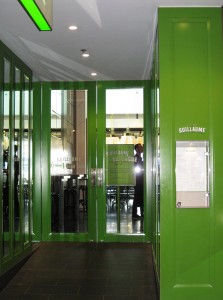 We were seated at an inside window table which considering the heat outside was ideal.  Service was exceptional, friendly and relaxed but at the same time professional.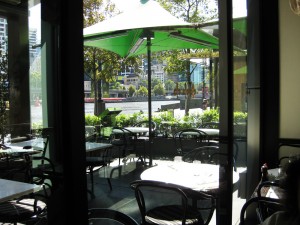 The moment the menu appeared the battery in my camera sighed and closed down – so no photos of these interesting dishes. This was the express menu.
•    Entree 1 – in-house smoked salmon with toasted brioche and dill cream
•    Entree 2 – steak tartare with pommes gaufrettes
•    Main 1 – seared barramundi on a bed of pea puree, tarragon butter and pommes allumettes
•    Main 2 – Plat du Jour
For your information these are the Plat du Jour
Monday – Braised rabbit in white wine and mustard seed
Tuesday – Bourdin blanc with truffle, confit of potatoes and frisée salad
Wednesday – Duck Parmentie
Thursday – Coq au Vi
Friday – Bouillabaisse
Saturday – Beef daube
Sunday – Rack of lamb on a bed of ratatouille, tapenade and zucchini flower
Steak Tartare was  my choice.  I was disappointed that it wasn't mixed at the table as it was the last time I had it.  However the flavour was good if just slightly on the bland side for my taste.  The salmon which is smoked in house was pronounced delicious.  Our group all chose the plate d'jour.  This being Thursday it was Coq au Vin.
I wished we had gone on Friday.  Bouillabaisse is something I love.  However the coq au vin was tender with a delicate flavour.  It took us back to a time when it featured regularly on all self respecting menus.   The wine was good and the whole deal seemed a bargain at the price.   I would return for the regular menu.
Our second experience, at The Graham in Port Melbourne, was not so successful.  Their Express menu offered entree, main and dessert giving a choice of  two of these courses  and a glass of wine.
I like the architecture of this grey pub that sits on the corner of Graham and Esplanade West and has been turned into a Gastro Pub so I jumped at the chance to try it.
The outside suggests elegance and it is elegant inside – relaxing elegance.  Our waiter was pleasant,  professional  and showed us to our table.
This was the menu.
Entree Potsticker of the day with sesame soy dressing
0r
Hickory smoked salmon, cured tomato, macadamia crumble
Mains Masterstock chicken with hot and sour dressing
or
Pan fried salmon with fennel and hazelnut mayonnaise
Dessert Lemon pannacotta, peach and strawberry
or
Raspberry souffle with pistachio sesame ice cream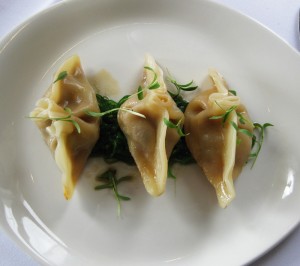 The dumplings with Wagu Beef (potsticker) were pleasant and three made a nice sized entree.
The salmon which we all ordered didn't  come with any vegetables so we ordered a carrot and bean mixture with cashew nuts from the main menu.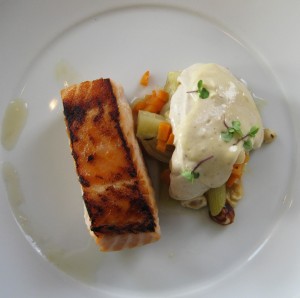 The salmon was delicious.  It was impossible to fault the flavour with the artichokes but size had no resemblance to what I would consider a main course.  It was like an entree.  This was disappointing.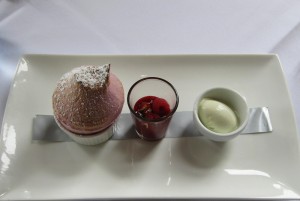 Raspberry souffle with pistachio sesame ice-cream that a couple in our group had instead of an entree was pronounced good.
Had we dined at the Graham first we may not have seen the lack but compared with the Bristo Guillaume's meal it felt pared back.
My chardonnay  was very drinkable and just the right temperature.  No one asked if  I wanted another glass and as it was lunch I probably didn't, but had they asked me I would have said yes.  The atmosphere there is very conducive to sitting back, sipping a chilled glass of wine and relaxing for an hour or so.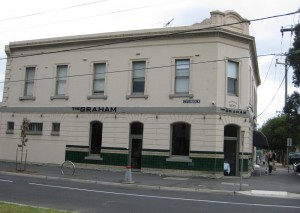 Where:-
Bistro Guillaume
Crown Entertainment Complex/8 Whiteman St,
Southbank VIC 3006
Phone:(03) 9292 4751
Hours:
Every day 12:00pm – 11:00 pm
The Graham
97 Graham St, Port Melbourne VIC 3207
Phone:(03) 9676 2566
Hours:
Lunch Every day 12:00pm – 11:00 pm
Dinner Every day 6.00 – 10.00pm