Books and Cooks they go together.
Dedicated cooks and the rest of us who dabble in cooking and who eat, can't resist books about food.  Take a look at any book shop and there are whole sections of these books covering every possible aspect of food and eating. Often they display mouth watering photos of  food, that probably looks better than it tastes.   So it's a great treat to spend time in a place where the only books to wallow in are cooking books, wine books and books about food and the philosophy of food.
It's all about eating at Books for Cooks 233 – 235 Gertrude Street Fitzroy.
There are new and re-cycled books, antiquarian cook books and you can't help but love the retro books at the back of the shop.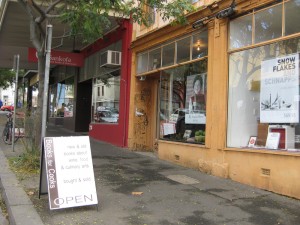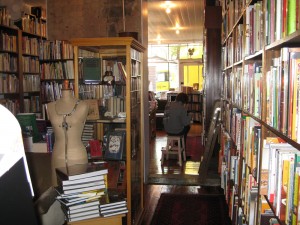 Take a look at the photos and you can see it is a unique place to hang out. Great staff too.  They know everything.  You can talk to them about a cook book you once saw and wanted.  They're happy to chat and try to source it for you.
To my delight they have a re- publication of Elizabeth David's original Cook books.  Elizabeth David's  book 'Mediterranean Food' was the first book that taught my family, in small town New Zealand, that olive oil could be used for cooking and not only for soothing an inflamed ear.  It's amazing to think that that was only a few decades ago.  Books for Cooks give the opportunity to leap back into those exotic and sensual and pages of Elizabeth David's early Books.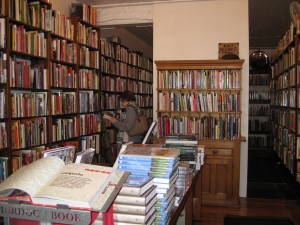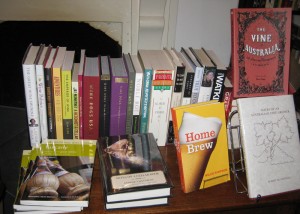 If you are a cook-book-junkie Books for Cooks is definitely your shop.
You'll also love Books for Cooks if you are keen on eating.  After a browse your taste buds begin to zing you can head for one of  the many eateries in and around Gertrude Street.  A popular place is Birdman Eating – don't you love the name?  It's right opposite Books for Cooks.
Books for Cooks is at 233-235 Gertrude Street – just around the corner from Smith Street.
Take the 86 or the 95 tram from the city