At the Booktalk Cafe, 91 Swan Street, Richmond food, coffee and books seem to be of equal importance.  The cafe is central to the ambiance of the shop.  The tables and chairs are in the middle of the space and then they wander between the book cases to the back of the room.  This is not one of those book shops where the cafe is an afterthought and tucked out of sight.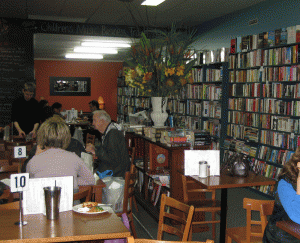 I like the name.  It suggests coffee food and a chat about books we've read or want to read.  Booktalk has shelves of new and pre-loved books.   The mixture of new and used is interesting.
A notice tells you that you can't take new books to the cafe tables.  You can browse these at the shelves and people do.
Another notice tells you that you can bring in your own books to exchange and if you buy a book and return it, you get 50% off the purchase price.  A lot of information but it does clue you into what it's all about.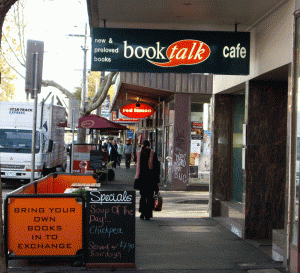 If you drift in by yourself there's plenty to read with your coffee.  Besides the books they have the daily papers and great selection of magazines.
The atmosphere is relaxed and slightly bohemian.   The tables are busy and used by people in heated discussion, people studying, people writing and people chilling out and just people.  They are always being used this has to have something to do with the quality of the food and coffee.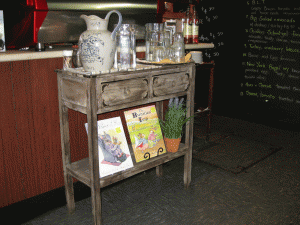 New and used children's books are are available for browsing.
The food is good, well priced and healthy.  Their Thai chicken salad $9.50 was delicious and a recent special of the day beef lasagne for $9.50 was a nourishing and tasty meal.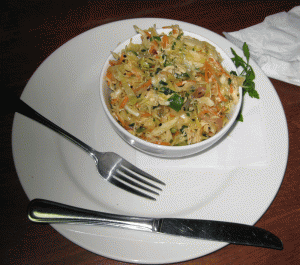 Thai chicken salad
The bacon and mushroom roti, that I would recommend, is $9.80. There are vegetarian dishes as well.   I understand the breakfasts are great but I haven't tried them yet. There are also Vegetarian meals and a Veggie Breakfast. Apple Crumble with a Muesli crumble.
To keep the literary theme many chairs are labelled with a writer's name.  I would like to choose my chair to match my mood; a heavy weight like Charles Dickens on grey overcast day when I'm feeling thoughtful and introspective or, Dick Francis if I'm in a light frivolous mood.  This has never been possible as the place is too popular to leave many chairs available.

Dick Francis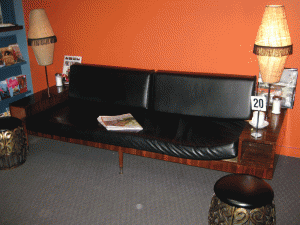 An inviting and comfortable couch at the back.
Swan Street, has some factory outlets and check out Dimmeys  at 140 Swan Street – the lovely old building with the clock tower – you can find some great bargains there if you hit it right.  Bargains come and go quickly.
The Booktalk Cafe, 91 Swan Street, Richmond. Phone 9428 1977
Opening Hours
8.00 to 5.30 every weekday
8.30 to 5.30 Saturday and Sunday
Getting there:

Tram 70 from  Flinders Street.  You need to catch it in Flinders Street not outside the Flinders Station
Tram 78  runs from St Kilda East along Chapel Street and Church Street to the corner of Swan and Church Streets
Parking in Swan Street is metered but there is usually free one hour parking in the side streets.