A chilly but sunny winter's day on High Street Armadale.
Exploring an area of Melbourne is one of the joys of living in this city where no area is the same as its neighbour.  By exploring I mean wandering, drifting into shops and browsing through the merchandise.  It is not so much about  shopping as absorbing the atmosphere.
Armadale is antique shops, bridal shops and general fashion stores; some very exclusive and some different but not expensive, and galleries; there are a lot of galleries.  Veronica George Gallery has some beautiful glass – a passion of mine (see the post hot sculptured glass at the Kirra Gallery).
Armadale is traditionally elegant and restrained but a new comer has changed some of that.  Supply and Demand has come to the strip and it is large and painted orange.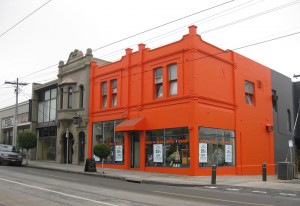 Supply and Demand – High Street, Armadale
However it is not the first orange building in the area.  Armadale Angling  has been there for years but in a funny way it blended in.  Now with the orange painted Supply and Demand across the road it stands out and looks tasteless and garish.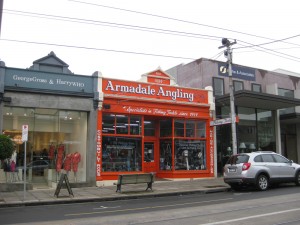 Armadale Angling, High Street Armadale
We had no pre-planned place to lunch in Armadale.    We came upon Crust and knew it was what we were looking for – casual, with atmosphere.  Inside there are dark tables, a dark interior and a cosy fire giving it a European feel.   Outside (where we sat) there is a heavy clear plastic awning to make the most of the sun by protecting the tables from the chilly breeze and the traffic fumes -High Street in Armadale is busy on Saturday.  There were gas heaters too although they were turned off  later as the plastic sheeting collected the sun's heat.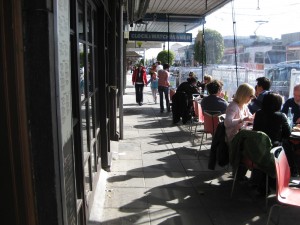 Saturday lunch at Crust, High Street, Armadale
This is a pizza place hence the name, Crust.  We discovered that Crust is a chain although I had never heard of it before.
They are unique in my experience by describing their pizzas as healthy.  The menu divides them in to categories – Traditional, Meat, Chicken, Seafood and Vegetarian. Then there is 'Healthier Choice' with the red heart tick.   Each item has a code by it to help with your healthy diet. For example 'SR' means that the sauce base is made from spinach and ricotta and 'P' is a pumpkin based sauce – there are others that you can check out if you visit.
We didn't choose a pizza.  We selected the Vegetarian Calzone.  It was a good choice – delicious and it went very well with the Monkey Bay Sauvignon Blanc.
Vegetarian Calzone with an 'SR' base sauce is made with Spanish onions, feta, roasted tomatoes and the final touch that tipped it over the edged from okay to delicious; olives.

Vegetarian Calzone, at Crust
We ate, sipped our chilled wine, watched the locals and visitors strolling past from our  warm and sunny enclave and felt, at that moment, that everything was fine with the world.
Getting there:
Tram no 6 to Glen Iris runs along High Street.  A good place to get off to start exploring is the corner of High Street and Kooyong Road, stop 40 at the Armadale Station.
You can also catch a train to Armadale Station. It is on the Cranbourne, Frankston and Pakenham lines.  When you leave the station walk through the arcade. It's full of interesting shops.
CRUST is at 1162 – 1164 High Street, Armadale Phone 9576 0911