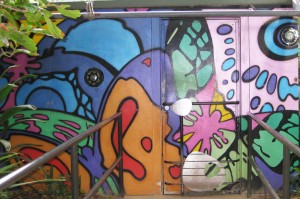 The door to the Butterfly House
The butterfly house at the  Melbourne Zoo is one of the nicest places to be on a cold winter's day.  In the summer it has charm but it is in the winter that it is magical – a place where everyone quietens and move slowly.  Boisterous school parties loose their bounce as they enter and their voices lower.  We talk softly to each other in the Butterfly House.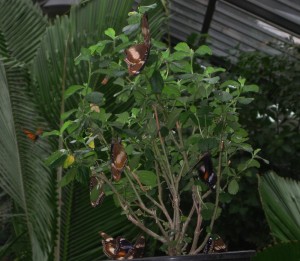 The atmosphere is tropical and  heavy and in this atmosphere the butterflies flit about.  They are delicate and  fragile, quick and beautiful – hard to catch on camera.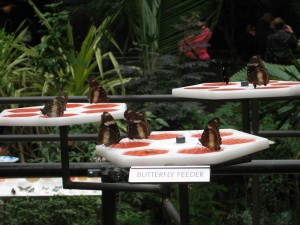 There are feeders for the butterflies to sustain themselves.
Stand still and they settle briefly on your head or arm.  There is a faint and gentle pressure when they alight on a bare hand or arm.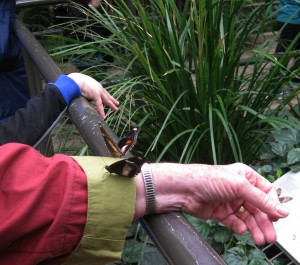 The butterflies charm and entrance and to be entranced you have stop and pull back.  There are a few seats and they are always occupied and people stand and lean on the railings.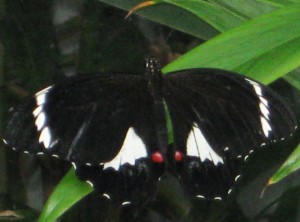 It is possible to  name most of the butterflies from the identification boards but somehow that doesn't matter.  Just saying,  "Did you see that blue one?"  is enough.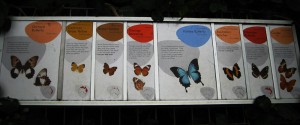 A butterfly identification board
I am sorry that there isn't an independent butterfly house we can visit on it's own. I would like to see one in the Melbourne CBD.  It is a place to be soothed and I could see myself popping at lunch time after a trying morning.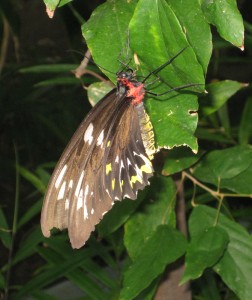 Nonetheless the zoo is always interesting and in a strange sort of juxtaposition of  huge and fragile  the elephant enclosure is by the butterfly house.  This give a chance to watch the elephant family lumbering along as they go about their daily routine.  Mali mentioned here in a previous post is grown but is not keeping pace with the younger male baby.  He is going to be a much larger elephant as all bull elephants are.  Watching the elephants and then stepping into the Butterfly House is an unique experience.
Melbourne Zoo opening times:-
Daily 9.00 to 5.00pm including Christmas Day
Phone:-
(o3) 9285 9300
Web Site-
http://www.zoo.org.au/MelbourneZoo
Getting There:-
Tram – No 55 runs from West Coburg through to William Street in the city and stops outside the zoo.
Train- Upfield Line from Flinders Street to the Melbourne Zoo Station (Park Royal Station)