Weekend biking around the Eastern Bays  is a Melbourne tradition.  On Saturday and Sunday mornings hordes of bikers, in the very best lycra and helmets,  form packs and peddle furiously along Beach Road to Marine Parade in St Kilda and then on to Port Melbourne.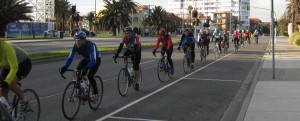 Those of us who drive have to keep a keen eye for them.  One of my nightmares is that I will park and open my car door into a bunch of cyclists.  And the cyclists may well have nightmares of somebody doing just that and knocking them under a passing vehicle.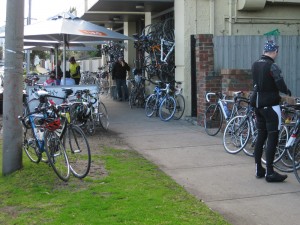 For the lycra clad the place to stop for a breather is Café Racer, 15 Marine Parade, St Kilda. In the weekend Café Racer is all about bikes, cycling and breakfasts.  If you ever wanted to learn what cycling is about pop along for a chat.  The place is heaving with people to talk to. Perhaps you should wear lycra, too.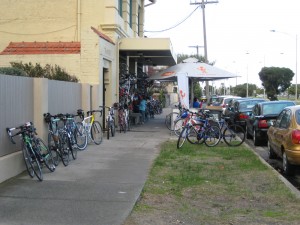 Café Racer is also open during the week when it presents another face to the world.  The clientele is different. There are few bikers, more locals, beach walkers and people who sit for hours with their laptops.  My favourite place to sit is on the bench looking through the window, across Marine Parade and out to the sea while I read the morning papers.  They have the best selection of papers and magazines – lovely glossies like Vogue and Gourmet.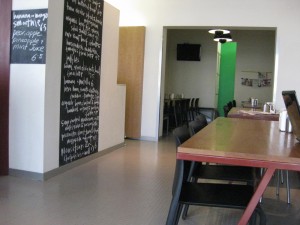 There is Black Board menu that leans toward organic and free range.  The food is interesting and good.  Their bacon and egg rolls are the best I have had.  Lightly toasted, they are slightly crisp on top with a soft bread roll. $6.50.  The eggs are soft-cooked and for those of us who are used to chomping through a firm piece of yellow it comes as a delicious shock.  If you order one just watch the yoke doesn't dribble down your chin.  You are given a knife and fork to make eating easy. They also have muffins etc from Phillippas .  I am not a fan of Phillips cakes and muffins so I am never tempted with my morning coffee.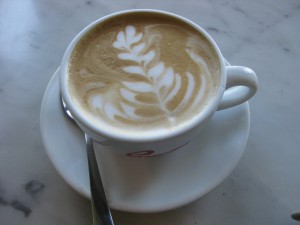 The coffee is the best.  Better than any of the coffee I've had along  the beach front.
Café Racer is open from 6.30am to 6,00pm  seven days a week, 15 Marine Parade St Kilda.
It's an easy walk from Acland Street.  Just wander down to the beach and it is a couple of blocks towards Elwood.
Trams to St Kilda the number 96 to the end of Acland Street or the 16 that takes you to the corner of Acland and Carlisle Streets.