Saigon means Vietnam, to most of us,  yet Cafe Saigon 159 – 161 Victoria Avenue, Albert Park serves a variety dishes from a number of Asian countries.  I'm not sure if this is an advantage or not.
The people with me have been to Cafe Saigon several times and knew exactly what they were going to eat. I was new to the cafe and I expected Vietnamese.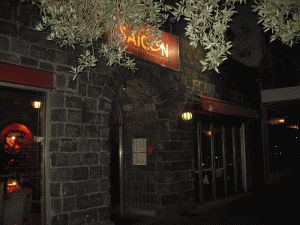 I have seen the restaurant many times before.  I used to work not far away and I have admired the building – all that bluestone makes for an attractive facade.  It was nice to get a chance to eat there.
Walk through the entrance and there is a small shrine to Buddha that creates an immediate ease to the day's tensions.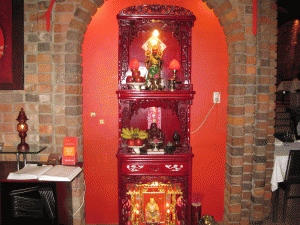 On your left is the bar and to your right the large dining room.  It has a decor that  is cool and minimal with bricks and concrete.  It represents no particular style and somehow this makes it easy to feel comfortable and at home.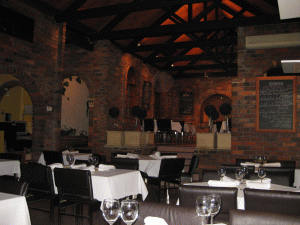 As I said I was surprised to find the menu covered dishes from other Asian countries including Grilled Teriyaki Chicken and Pad Thai Rice Noodles.
We ordered a serving of Vietnamese spring rolls and also Vietnamese vegetarian rice paper rolls.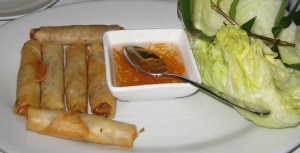 Spring rolls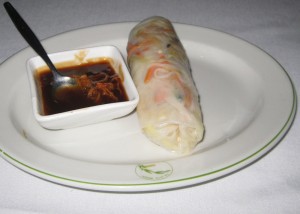 Vegetarian rice paper roll
Of the two dishes the rice paper rolls were far the superior and had a sauce that owed a lot to Hoi Sin Sauce.  The waiter told us that the sauces were all made on the premises.
Two of us travelled south from Vietnam and ordered Singapore noodles.  Good choice.  The dish had just the right amount of heat for me and I got the other diner's serving of prawns.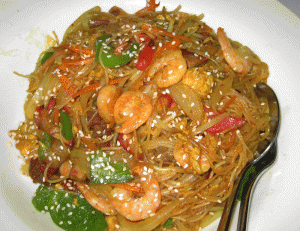 Singapore noodles with extra prawns
The sizzling beef and vegetables was a tried and true favourite for my other table companion.  She suggested the restaurant so she could eat this dish.  It came to the table really sizzling and smelling delicious.
Sizzling beef and vegetables
The service was wonderful, friendly, efficient and careful.  That sounds a silly word to use but we felt  we were cared for and our pleasure was their priority.
The restaurant has been there for a long time and appears to have built up a following with the locals.
The food was good but not exceptional and the prices on the high side for Asian food but then we are in Albert Park just up from the beach so it is unfair to compare prices with prices in Victoria Street, Richmond.
I'd eat there again.  It's a Melbourne Place that is worth going to.
There is a take away menu here. I can't see that it is very different from the cafe Menu.
Cafe Saigon:-
159 161 Victoria Avenue
Albert Park
Phone 9696 3388
Opening Hours:-
Lunch 11.30 to 3.00 every day except Saturday
Dinner 5.30 to 10.00pm every day except Thursday Friday and Saturday when it stays open until 11.00pm
Getting there:-
It is just up from the South Melbourne Beach.
Tram No 1 to South Melbourne Beach it terminates at the beach at the end of Victoria Avenue
Get off at the second to last stop.