The Special Cake Shop at 207 Chapel Street, Prahran is an institution in the area. SADLY, IT HAS NOW CLOSED.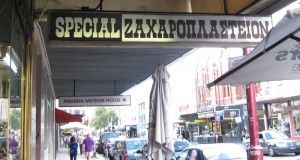 Over the years Prahran cafes and food outlets have come and gone but not  the Special Cake Shop.  It  just keeps on keeping on.  It was opened in the mid 1950s by a Greek Immigrant and then bought in 1976 by its current owner George Seherlis.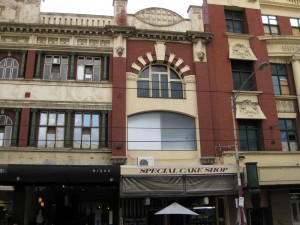 The Special Cake shop is in one of these charming old buildings that are fast disappearing from along Chapel Street
The shop has stayed the same.  The inside, which hasn't changed since I have been buying from it,  looks a bit retro but I think it is one of those places that fashion has gone the full circle and is back with it.
The inside is divided into two parts with a wide opening between them.  As you enter there is seating to the left, the retail counter to your right and the kitchen straight ahead.    The windows are full of cakes and biscuits.  They are not all Greek cakes.   You can get an English sponge roll and lamingtons.  There are some wonderful double chocolate biscuits.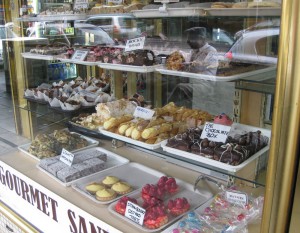 I'm told that they are still making coffee in their 1960's coffee machine.    I haven't checked this out.  I have had coffee there.  It was good but not the best I have had.
I usually buy and head for home. The Baklava is good – solid hearty Baklava with lots of nuts. Great  for desert.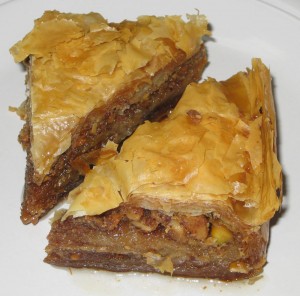 A few years ago they introduced a spinach and feta scone  – if you think of  'scone' in an English sense you'll look for the wrong thing. This scone is about the size of a saucer and oozes spinach, onion and feta. They are usually in the window but you can buy them warm from the pie-warmer or if you arrive at the right time – late morning – they are warm from the oven.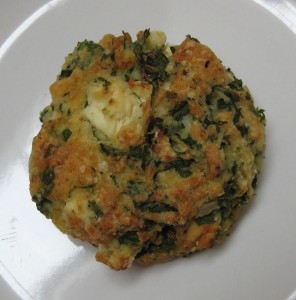 This scone is my weakness.  Every few weeks I begin to crave one and I need to have my fix.
The Special Cake Shop is a friendly place with family members working there.  They are always helpful, pleasant and quick.  Many of the customers are regulars and appear to be friends.  It would be easy  to fit into this companionable vibe. They also serve pies, sausage rolls, filled rolls and gourmet sandwiches.
Where:-
Special Cakes, 207 Chapel Street, Prahran Phone 9510 6789 – This shop has now closed.
Opening hours:-
Open every day from 7.00am to 6.00pm
Getting there:
Tram No 78 runs along Chapel Street to Richmond.  Tram 6 to Glen Iris leaves from the CBD, get off at the corner of High Street and Chapel Street and walk North.
Trains the Sandringham Line to either Prahran Station or Windsor Station