Want an ice cream or a cake fix?
The Gelobar at 47 Lygon Street, East Brunswick is the place to start.  It is also the place to end – a visit there and you won't need to try anywhere else.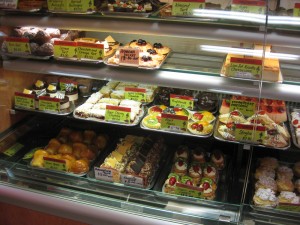 You'll leave there with a grin on your face.   And if you are someone who lets guilt take over you'll be asking yourself . 'Why was I so tempted? Why did I have that last cake?'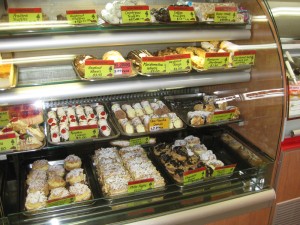 The reason you had that last cake was because the first was so delicious and your eyes wandered back to the display.  The other reason would be the cost.  Who can resist a creamy delight such as a 'creamy choc-vanilla cannoli'  for only $2.80.  The coffee is good too.  Your guilt maybe because you can't resist an ice cream before you leave.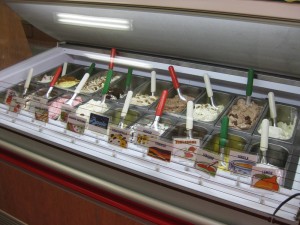 This narrow cafe/shop has been around for a few years and in the summer the queue for ice cream can be out onto the street. It is colder now (mid-May) and although the display of ice cream is eye-gabbing the temperature outside makes cake and coffee a more obvious choice.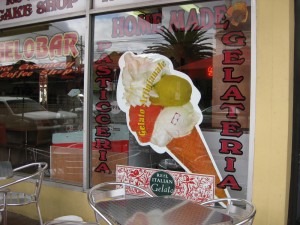 It's the food and value for money that you go for not the decor.  The interior decoration belongs to the style 'we-have-some-tables-and-chairs-we'll-put-them-out' – very basic – with a red plastic fly curtain at the entrance.  That's half its charm.  And you are there for your stomach and a taste sensation. The decor doesn't matter.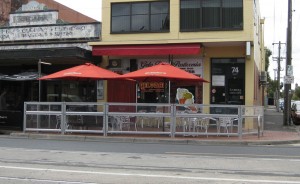 Gelobar, 74 Lygon Street Brunswick East, is north of the familiar Lygon Street café and restaurant hub at Carlton.
Grab the Number 8 tram.  The Gelobar is just above Brunswick Street  on your right – about stop 122 .  It's on the corner of Philip Street.
They are open from mid-morning to late at night.  Ring 9388 1419 to check opening hours.