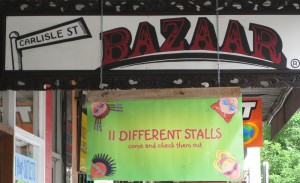 The Carlisle Street Bazaar opened just before Christmas adding another retail experience to shopping in the piece of Carlisle Street around the Balaclava Rail Station.
This Carlisle Street Bazaar replaces a store where I often browsed.  It was one of those stores that covered an eclectic range merchandise – clothes, furniture, home ware, jewelery, gifts.    All this appeared to be individually chosen to give a cohesion to the store.  This space has now morphed into the Carlisle Street Bazaar.  It is as if the original store has re-invented itself and presented a new face to the world, the cohesion has gone but the atmosphere has livened up.
To me it is an improvement.  For one thing the space is lighter and brighter.   I found the old space rather gloomy.  The variety is better and it is more fun to browse.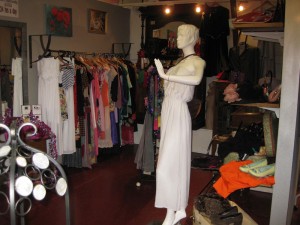 Stock moves too.  There was a hand created metal pig and sheep when I first walked into the Bazaar and a few days later they had gone.  "Snapped up," I was told.  They still have smaller roosters from the same artist.  They are the sort of patio/garden object that lift your spirits and cause you to smile.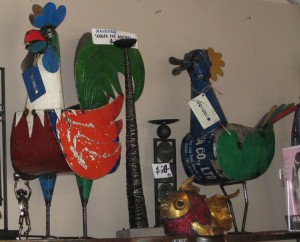 So far the Carlisle Street Bazaar have been a constantly changing visual feast – new clothes, new displays, new bric-a-brac.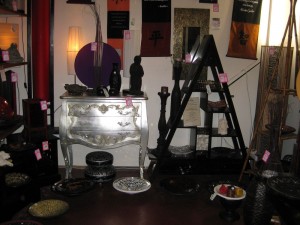 At this point the venture looks successful and it will be interesting to watch it evolve. I like the original art and would like to see more creative works for sale.
To discuss hiring space: – phone   0411598411.
Opening hours: -
Monday to Saturday 10.00am to 6.00pm.  The Bazaar closes at 5.00pm on Sunday.
Getting there:
Trams – 12, 3, going along Carlisle Street, first stop past St Kilda Road. 67 Tram get off at the corner of Carlisle and St Kilda Road  or a 78 that runs from Richmond to the St Kilda East end of Chapel Street.
Train – Sandringham line to Balaclava Stration