The funky end of Chapel Street – that is the end by the Windsor Station and Dandenong Road – is one of the first places in Melbourne that I explored.  It was different from any place I'd seen and it is still different.  Over the years places have come and gone and some have stayed the same.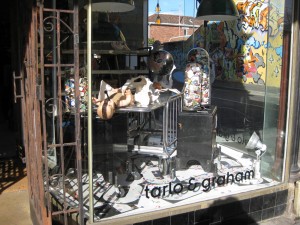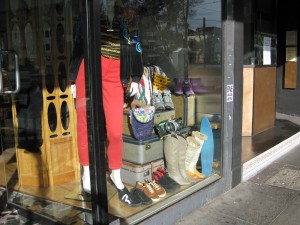 You can buy designer clothes, designed by local designers. You can get fashionable shoes for huge feet at Rosenberg's Shoes. You can prowl various op shops and you can buy second hand books from  Syber's Book Shop.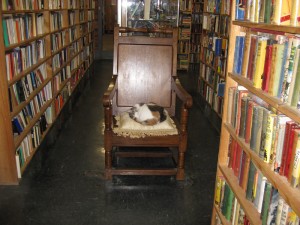 It was the cats I first feel in love with at Syber's Book Shop, the books came later.
Syber's Book Shop is a treasure trove of books including rare and out of print books.  The wonderful thing is that they know what they have and where to find it. I wanted a book by the German writer H.H. Kirst.  Often when I ask I get a blank stare.  Not this time.
"Oh. Yes," said Penny Sieber getting up from her desk and putting her hand on a book by Kirst.
The chairs at Syber's Book Shop give an atmosphere to shop but you may have to compete with one of the three cats for the most comfortable one.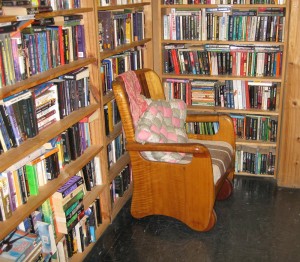 Syber's Book Shop is a good place while away some time if you are into books and of course there are the cats to meet.
This is also the retro end of Chapel Street and even the Op Shops go in for presentation and stylish window dressing.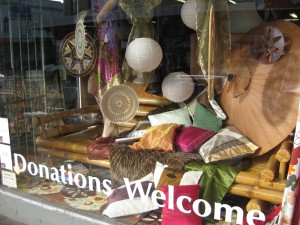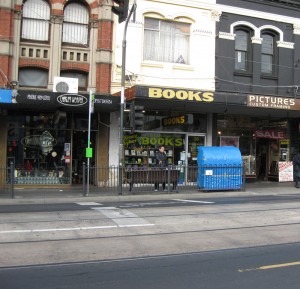 The best way to get to this funky end of Chapel Street  is to take the Sandringham Line Train to Windsor Station.  Come out of the Windsor Station and you are there.
Trams 78 and 79 run the full length of Chapel Street between St Kilda and Richmond.  If you are coming from the CBD by tram you need a tram number 8 or 6 or 72.  These trams intersect with Chapel Street at some point.