One of the attractions at the St Kilda Botanical Gardens is the Giant Chess Board.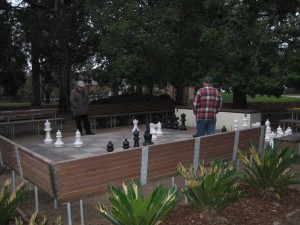 There is an area set aside especially for Chess near the pond and the conservatory.  It has built in bench-seats and tables.   The tables have regular chess boards set into them so you can bring your own set, sit in the fresh air under the trees and challenge your friend to a game.  Summer's fine too because there are  beautiful old trees shading the area.
For the experience of walking around with your chess pieces you need to to book
Ring 9209 6777 to book the Giant Chess Set.
If you are reading this over Queens Birthday weekend you could wander along to the St Kilda Botanical Gardens and check out the 'Paint These Gardens Competition'.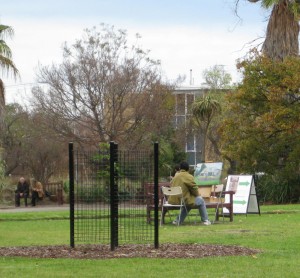 The winner is announced at 4pm on Queens Birthday Monday.  All the paintings, winners or not, will be on display in the St Kilda Town Hall in September.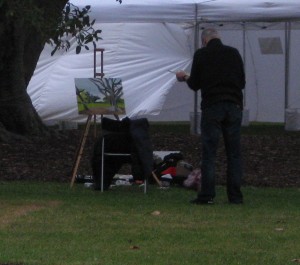 A lot happens in the St Kilda Botanical Gardens – they are 'user friendly' as they say.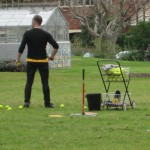 Take either a 3 or a 67 Tram to the corner of  Brighton Road and Carlisle Street then walk up Blessington Street.  The 96 tram will take you to the end of Acland Street and you can walk to the Gardens from that end of Blessington Street.
Either way it is about 2 minutes from the tram stop.