December and The Stonnington City Council has gone all out to make it fun for you.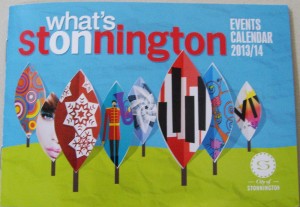 You can pick up their booklet, "What's on in Stonnington" outlining their events, all over the city.  I found one in Brunswick Street, Fitzroy so they are not only available on their home turf of Stonnington.
December is a upon us and there are great Christmas programs, especially for children,  to get you all in the mood.  Enjoy carols in various parks around the city including the Prahran Market Square on December 21st from 2pm to 4pm.  
There is fun for children in Ardrie Park, Malvern East on Saturday 7th December, where there is a chance to make Christmas decorations and join Elmo and Cookie Monster and other characters from Sesame Street to sing carols.  This event starts at 4pm
Santa and his elf will read stories and help children make decorations in the various libraries around the city.
It is worth finding their well presented booklet available from cafes and the Town Halls.  Their web site doesn't give such clear information.
If you can't find a booklet here are the pages on the Christmas Carols.  Just click on the pictures and you should be able to read them.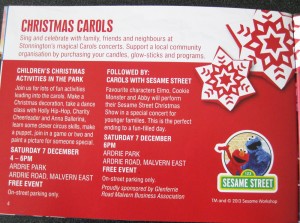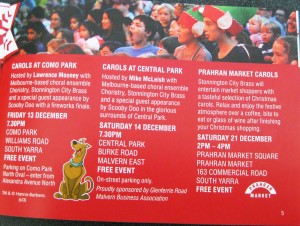 The Stonnington Council and Malvern Town Hall
1251 High Street
Malvern 3144
Or
The Prahran Town Hall , the entrance is just around the corner at:
180 Greville Street,
Prahran VIC 3181