I had the luck to find myself at Blairgowrie Beach on the Mornington Peninsular for Christmas.  On Christmas Day it was amazingly quiet there.  I expected the little village to be filled with Christmas revelers.
It wasn't.  It was closed and empty.
All these photos were taken on Christmas Day – when the lack of people was slightly eerie but very  relaxing.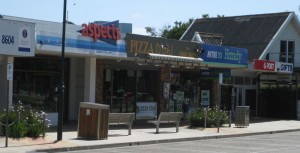 It is good to get out of Melbourne occasionally and this is a beautiful place to spend time. For those of us who were in Blairgowrie it was a Christmas to remember.
It changed as the year drew to a close – the town seemed to open and the cars and people rolled in.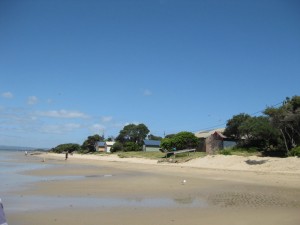 Blairgowrie is a small ' village' nestled between Rye and Sorrento and for that reason there is a friendly village atmosphere.  This was  part of the pleasure when we wandered to the now busy village on Boxing Day for a wine and an hour or so to check out the locals from one of the cafes.
A number of cafes in Blairgowrie have good cafe food and there is the best IGA store I have ever seen – it is a gourmet feast for the eyes just to wander around.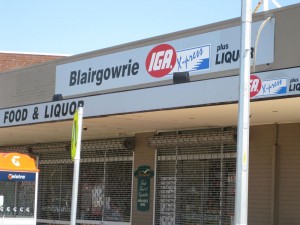 The beach is perfect for children with a very gradual decline into deep water.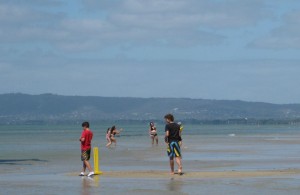 I am back in Melbourne, now,  enjoying the  city in its holiday mode.  As I drove back to Melbourne I could see  a large percentage of the Melbourne population  headed in the other direction – towards the sea.
Getting there:
The quickest way to get to the Mornington Peninsular and any of the seaside places down there is to drive.  It is about 90 minutes from the CBD,  so it's possible to take a day trip.
Public transport is easy – it just takes more time.  Take the train to Frankston ( Frankston Line) from Flinders  Street station.  At Frankston buses leave from the station and head along the peninsular . Many of these buses meet the train.
To work out a time schedule ring Portsea Passenger Services (03) 9586 5666 for information on the buses and to confirm the trains they meet.  The first bus leaves Frankston Station for the peninsular at  5.40 am – should you want a bus that early and the last one at 11.05pm.
Accommodation can be arranged through the Visitors information centre at Federation Square