This is not a cottage that James Cook, the great explorer and discoverer of Australia, actually lived in himself.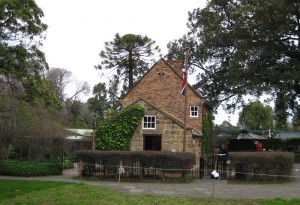 His parents moved there after he had left home to begin his life of adventure.  It is thought that he visited the cottage at times when he was on leave from the British Navy and in that way has a strong connection with it.

James Cook in the garden of Cooks' Cottage
James Cook is one reason to visit the house, other reasons are its charm and its depiction of the way life was lived in the cottage in its early years.  It was built in 1755 in Great Ayton in England and moved brick by brick to Melbourne in 1934.
The cottage is sweet.  Sweet is a good word because by today's standards it is like a dolls house.  It is tiny, the doors low and stairs positively dangerous they are so steep and narrow.  There is a dress on show that was worn by a 'lady 'of the day.  How she managed to go up and down those stairs carrying 'stuff' and not get tangled in her skirts and finish her life in a heap at the bottom, is hard to understand.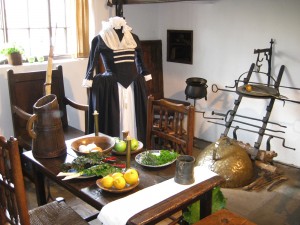 James was the second of eight children so when the Cook family moved into this cottage we can suppose there was still a number of children at home.
When you look at the kitchen, imagine a family of say four children moving around, working, eating and stepping over the family pet.  It would be something of a logistics feat and we can only suppose that everyone was very careful where they put their feet.  There would be no place for anyone the least bit clumsy.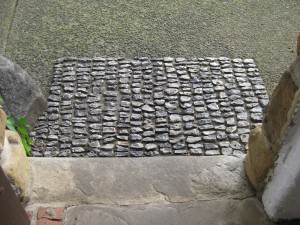 This is a version of an 18th century door mat.  It is made of flint and I understand the same flint was used to make fine bone china.  The door mat has stood the test of time and is still effective.
Cooks' cottage is well worth a visit.  It is charmingly arranged with clothes and furniture and objet d'art all from the right period and the house certainly has a feeling of a home.  You can image the occupants crowding around the table in the kitchen, writing at the desk upstairs and scraping their boots on the door mat .
There is an audio component that helps to explain life in Captain Cook's time.  However I found that the number of people who were visiting when I was there drowned out most of the sound.
The garden is joy.  It is sort of laid out like an English kitchen garden with herbs and flowers mixed together.
I was impressed with the angelica plant. I love angelica when it is crystallized and used  in cake cooking.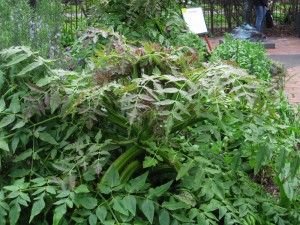 A healthy angelica plant in the garden at Cooks' Cottage.
Where:-
Cooks' Cottage
Fitzroy Gardens
Wellington Parade
East Melbourne
Opening hours:-
Monday to Sunday: 9am to 5pm  (except Christmas Day). Last admission at 4.45pm.
Phone: 03 9658 9658
Web: www.melbourne.vic.gov.au/cookscottage 
Getting there:-
Fitzroy Gardens are about 10 minutes walk from Federation Square
Tram:
No 75 and 48 travel along Wellington Parade.