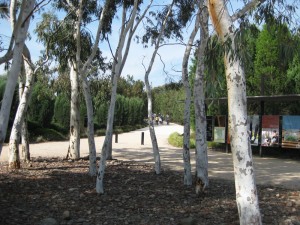 Entrance Royal Botanical Gardens Cranbourne

There are two parts to the Cranbourne Botanical Gardens.
1.    They contain one of Victoria's most precious areas of native bushland.  This area is full of tracks so that you can shoulder your day pack and experience the atmosphere of walking in an area of native bushland.   This extensive area is home to a number native animals and also some rear plant species; animals like Koala, wallabies and enchidnas.
2.    The stunning Australian Garden that show cases Australian Plants and trees.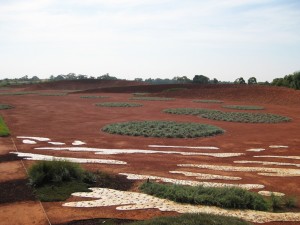 Red Sand Garden – depicting Desert Heart of Australia
The Australian Garden is made of of numerous blocks all showing a different example of Australian trees and flowers.
For example; Stringybark Garden and Water-Saving Garden.  The plants are all named so if one takes your fancy you can jot down the name and try for it at your local nursery.  One of our group did this and has now given her home garden a new look and of course a memory of a Day at the Cranbourne Botanical Gardens
The gardens at Cranbourne are a great way to sample our native flora. The Australia Garden is accessible to all ages, with plenty for kids to do. The playground and lookout is worth a visit with kids. In the warm weather the water features, waterfalls etc adds to the charm of the place.  There is a water area for children.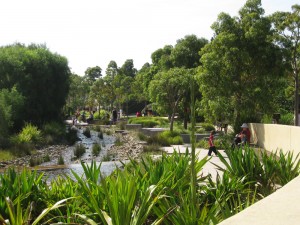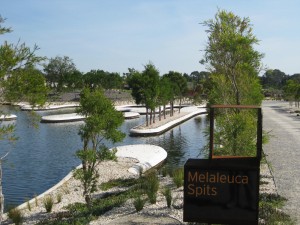 Maps are available at the entrance but it is easy to find you way around.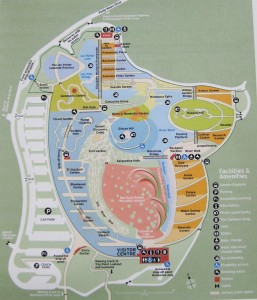 The cafe near the visitors centre severs good food including wine.  The view is good from the windows and the table decorations are in keeping with gardens.  This was ours.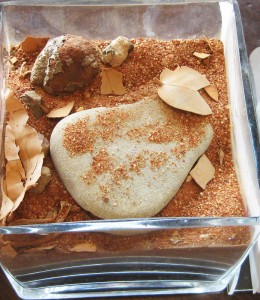 Getting There:-
By car:- The Monash Freeway (M1) and then turn off at the South Gippsland Freeway (M420). Signs will be for Cranbourne and Phillip Island.  Stay on the M420 until you to the town of Cranbourne where you will see signed for the Botanical Gardens.
Train:- Cranbourne Station – there is no bus link to the Gardens but taxis are available at Cranbourne Station for the 7 kilometre trip estimate cost $12 – $15
Entry:- to the Garden is free of charge.
Open:-
9am – 5pm, daily
Closed:-
Christmas Day and
Days of Total Fire Ban