Degraves Street, Hardware Lane, ACDC Lane, Centre Place, Crossley Street, Hosier Lane, Myers Place and Degraves Street.
This is a list of some of the more well-know laneways in Melbourne's CBD. I have begun and finished with Degraves Street because it's my favourite laneway.   I like its grunginess and dinginess.  Its vibe and its people.  I was reminded again last week of just how much I like it.  I was there early, a bit before 9am so it wasn't packed with visitors.  Most of the people were workers and local residents who were eating breakfast or grabbing coffee to take to work.
My favourite spot is at the Flinders Lane end where it narrows down and the tables are on the edge of a narrow, raised footpath.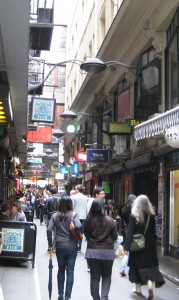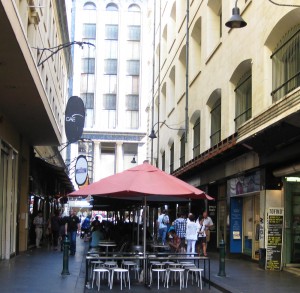 Early on a summer morning – Degraves Street
One spot I like  is opposite Kinki Gerlinki – The coffee is good there and Kinki Gerlinki. makes a bright splash of colour..  It is also a good place to hear the buskers.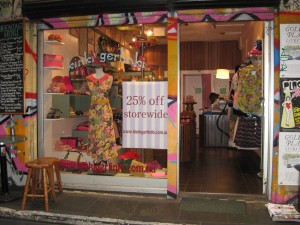 Most of these cafes have inside seating too, if you want to be away from the edge of the action.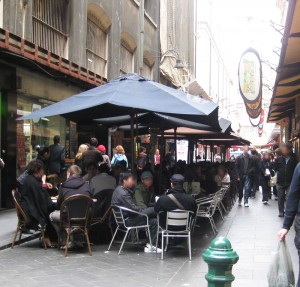 A winter morning in Degraves Street.
Degraves Street has it's own unique atmosphere.  For me this laneway suggests strangeness, a sort of foreignness – as if I am at the edge of another world.  I felt this the first time I walked through and although I have been through and eaten there a number of times since,  it always feels as if wonderful things could happen here.  As if there is nourishment in the air to inspire and feed human needs and desires.   As if anything was possible.  I know that sounds silly but that is how it makes me feel.
In the summer the cool from the lack of sun is pleasant. In the winter gas heaters burn and hiss amongst the rise and fall of voices and the drift of buskers' music.
Robert Le Mal is a frequent busker.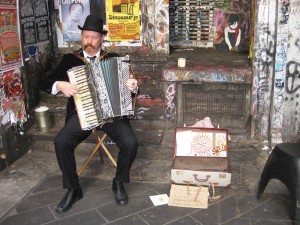 He collects and restores old accordions.  His notice says, "Hi I'm Robert. I love old accordions.  Donations help me buy old accordions.  If you smile I will too."
This accordion he is playing is a 1935 Italian Settimio Soprani-Rialt0.
I believe we all have our favourite Melbourne laneway.  When I  came to Melbourne mine used to be the Block Arcade and the Duomo Cafe but I have changed over the years.  Degraves Street is where I like to hang-out.
Have you got a favourite you would like to introduce us to?
Where:-
Degraves Street.
Between Flinders Street and Flinders Land
Getting there:-
Walk from Flinders Street Station or Federation Square