Carlisle Street in East St Kilda was the Melbourne Place I got to know well when I first came to Melbourne.  It was here I became familiar with Russian and Eastern European food for the first time.
The St Kilda Library in Carlisle Street has a large selection of Polish and Russian books in their foreign language section. The Hungarian section is smaller but  it doesn't matter because the Hungarian flavour is outside on the street. When you walk out of the library you can step into a café called Hearty Hungarian food. It's next door.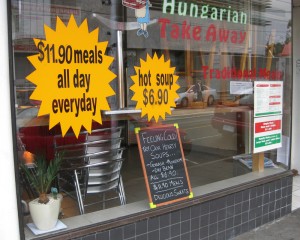 This is more a takeaway cafe but they do have a window bench if you wish to eat there.  The food is cheap and filling – ideal winter fare.  All meals consist of a main and two side dishes. Last week they were advertising freshly made cherry strudel.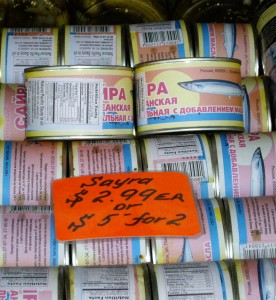 Over Chapel Street the Eastern European theme continues .  It is here that you can wander into a Russian delicatessen and if you are very adventurous buy tins labeled completely in Russian.  You can ask what's in them but sometimes it is fun to take a punt and a good guess.  Once I bought a jar of cherry jam with a label written in Polish from Lorgen International Delicatessen 236 Carlisle Street – not very adventurous I know  but the jam  was delicious.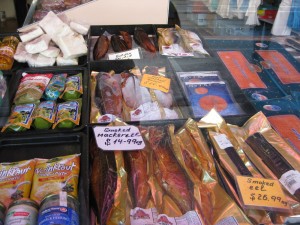 Meat is on the menu in Carlisle Street, East St Kilda.  It is amazing how much meat.  There are two supermarkets selling meat and two flourishing butchers/ delicatessen.  Both butchers/delicatessens cater for their Eastern European clientele.


I like the larger of the two with the uninspiring name of  "Fresh Food Corner" It's on the corner of Woodstock and Carlisle.  It's like stepping into another country.   Peer into the deep freezer and study the tradition Russian pasta filled with such delights as cheese and cabbage,  Siberian Beef and Pork, or Cherries. There are a myriad of sausages, imported cheeses, offal and a mind boggling array of meats and chicken. The counter is cluttered with tins of imported goodies.  A recent arrival is tins of chestnuts.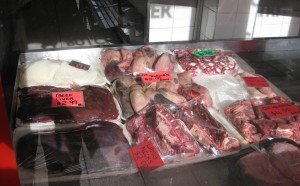 Window Display at Fresh Food Corner.  They also have an extensive array of marinated kebabs.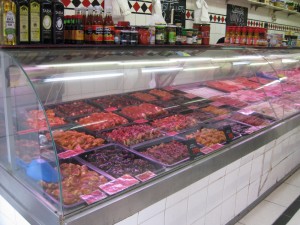 The other butcher Leon's Small Goods is at 262 Carlisle and has the best selection of locally produced ham in the area. They have ducks, whole  Porterhouse steaks, whole fillets of beef as well as more cheeses and sausages.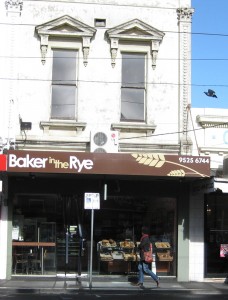 Then there is Baker in the Rye, opposite Lorgen International Deli, selling wonderful sough dough bread and black, very black and heavy rye bread, various Russian cakes, some with that wonderful poppy seed paste.  Try their cherry or cheese 'Danish' pastries.  If you are lucky they will be warm from the oven.
The area has a number of Melbourne style cafes and you can buy coffee at Baker in the Rye. And while you are in St Kilda East check out some of the architecture.  These buildings were constructed when there was time and money to be frivolous.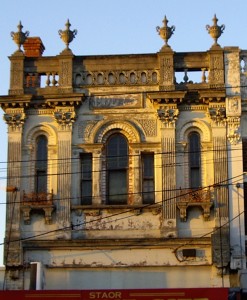 To experience the Eastern European and Russian flavour of Carlisle Street, St Kilda East or Balaclava as it is sometimes called, take the Sandringham line train to Balaclava Station or the number 3  or 12 Tram to Kew.  This will take you along Carlisle Street.  You want to get off at the corner of Chapel and Carlisle – just after the library.