Recently,  I scrolled through some of the blogs  I follow and read a review of the  Dae Jang Geum Korean BBQ.  We decided to try the restaurant.
When I mentioned at work  that I would be lunching at a Korean Restaurant everyone said,
"What's Korean food like?"
It is a good question.  We know so much about other Asian cuisines but what do we know of Korean?  We eat regularly Thai, Chinese, Indian and Japanese.  We grab them as take-aways, we read about them on the food pages of magazines and newspapers.   But Korean food?  When did you last discuss Korean food with a mate?
The Dae Jang Geum Korean Barbecue restaurant is  a great place to get acquainted with the cuisine.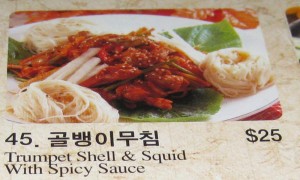 Dae Jang Geum Korean BBQ is upstairs in Little Bourke Street, just around the corner from Swanston Street.  You can't miss it.  There are large garish pictures of some of the dishes severed on either side of the wide entrance stair case.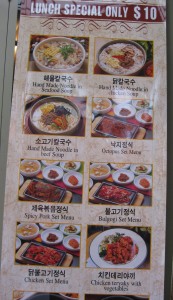 As we know so little about Korean food I think this is a good idea.  It shows us what we can expect to eat before we climb the stairs.  The menu also has a picture of each dish.  I found all  these pictures helpful.
I have been to Korea and I had a couple of dishes in my mind that I remembered I liked and haven't eaten since.  I also remember the blistering heat of 'kimchi' that was added to everything, including soups.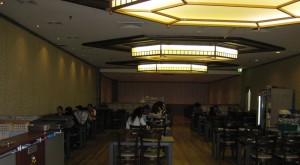 Upstairs
The room is large and feels like any Asian cafe that is about the food and conversation not the decor.   One feature wall is interesting.  It is covered in Korean writing.  When you look at it closely you can see how it differs from Chinese or Japanese.  We wondered what it was saying.  Dae Jang Geum over and over again??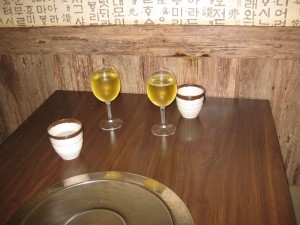 We ordered a glass of white wine to sip while we made food decisions.  White wine is the only wine by the glass and it is what it says, white wine.  For $4.00 you get a full glass of drinkable dry white.   I have photographed it because I wanted to prove the value!
The tables are set up for a tradition Korean BBQ, with a gas ring in the centre.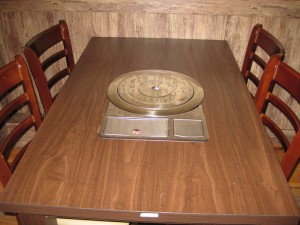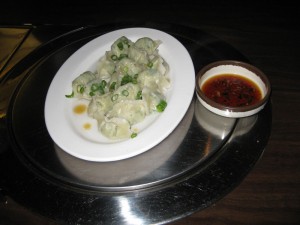 We ordered a plate of dumplings to share
They came with mild flavoured dipping sauce and the spring onions that gave them  a fresh taste.  We enjoyed them.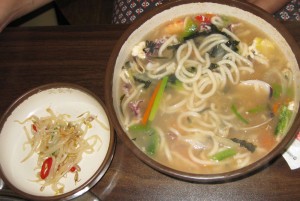 The seafood noodle soup  with a couple of side dishes was very good.  It was large and had plenty of  seafood.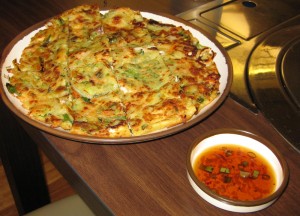 I ordered a seafood pancake.  I remember eating these rather starchy pancakes when I was in Korea.  They were often pleasant and mild without too much heat in the mixture.   This one came with two side dishes neither very hot but added to the overall flavour.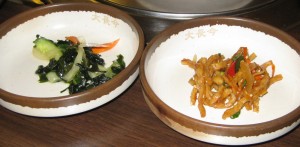 Side dishes are part of the Korean cuisine and each order came with its own side dishes.
We plan to return for an evening meal and to have the traditional barbecue. We want the fun of our own gas ring and the chance to cook our own food  Another dish we want to try is a soup that is served in a stone bowl with a raw egg on top that you mix in and it sort of cooks with the hot soup.
I am puzzled about the lack of chilli in the food.  No one discussed heat with us.  We were the only westerners in the restaurant that lunch time and I wondered if the cooks made a decision on our behalf and cut the heat or have we struck a regional fare of Korea that is not hot?
Another question that was asked at my office is why Korean food hasn't taken off like other Asian foods?  I have no answer to that question. Perhaps you have.
Where:-
Dae Jang Geum Korean BBQ,
Level 1, 235 Little Bourke Street, Melbourne CBD
Phone 9662 9445

Opening Hours:-
Open 7 days a week
Sunday to Thursday – 11.30am to 10.00pm
Friday and Saturday 11.30am to 11.00pm

Getting there:
Any tram that goes along Swanston Street and get off at Bourke Street.  It's about 20 metres  along Little Bourke Street towards Russell Street.