A regular Saturday Book Market is held in the Atrium of Federation Square from 11am to 5pm. There are over 5,000 books displayed at a variety of stalls that command the entire floor area of the atrium.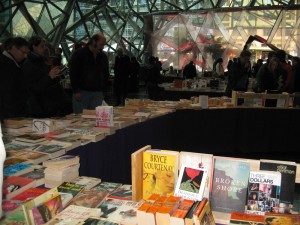 It is a great place for a market – warm on a cold winter's day and cool in the height of summer and it has got atmosphere.  The books create a welcoming and relaxing vibe – ideal for browsing. You can browse.  No one pressures you to buy.
There are books on Oriental art, poetry classical literature, music.  One stall specialized in Russian literature while another has Australian books.  There are  stalls for children's books.  I saw an elderly lady buying a very vintage copy of 'Anne of Green Gables' by L.M. Montgomery.  I got an instant head picture of her going home reading it and reliving a period of her childhood.  The book was first published in 1908.
It is a good place for a trip down memory lane.  It's the place I find books that I had always intended to read and then forgot about and books I've read and loved and want to dip into again.  I found 'Justine' by Laurence Durrell.  A book that gripped and fascinated me as a teenager.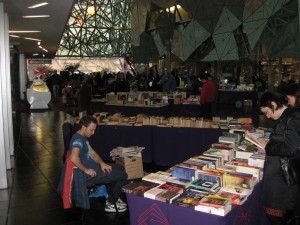 Then there are those books that grab your attention.  How can you resist a book titled 'Espresso with the Headhunters' by John Wasser.  This unlikely title is about a trip through the jungles of Borneo.  With an espresso machine?  The blurb doesn't say
If you want your own espresso or latte without the Headhunters the market is surrounded by cafes.
It is a friendly market, the books easily accessible for browsing and the stall holders knowledgeable. Most of the novels are priced about $8 to $10 and all books are in good condition.
The market will be held on every on every third Sunday of the month for a trial period.  This is happening at the moment and will go on for an indefinite time. The same time as Saturday – the Atrium Federation Square, 11am to 5pm.