Have you wandered around the Federation Square car park recently?  It seems an odd question to ask.  But if you have you will have noticed the thriving veggie gardens.  If you haven't go and have a look.  The gardens are inspiring.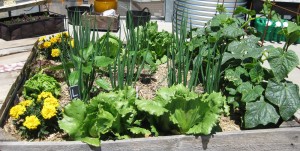 I like the idea of working in the CBD,  tending a garden during a lunch break then grabbing some herbs to take home for dinner.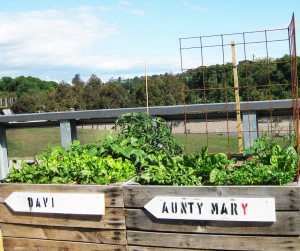 Mat Pember and Fabian Capomolla of  The Little Veggie Company are behind this great idea.  You hold your garden for a year and all you have to do is secure  your own veggie crate and you are ready to go.
Mat Pember says, "Its $3.50 per day – a cup of coffee a day – or $25.00 per week". For this you get a fully installed crate, the use of tools, and water and help from the staff member who is on site.
Some of the  planters are racing away with a variety of vegetables and some flowers.  You can grow what you like but the idea is to grow what you will later eat.  This is an amazing introduction into what you can grow in a small space.  I am looking at my small courtyard with new eyes.
I met Mel there.  Her garden is flourishing.  She lives in a high rise block in the South Bank area and can see her patch from her window.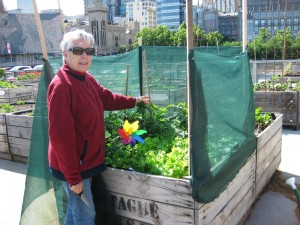 She says, "It's exciting having this space and watching everything take off," Her basil is thriving and she explained, "It's because I keep the strong sun off it.  Too much sun turns it yellow." She showed me some basil in another plot that had a yellowy look.  Her basil is a beautiful green.  Just right for picking and chopping up over tomatoes or for  making pesto.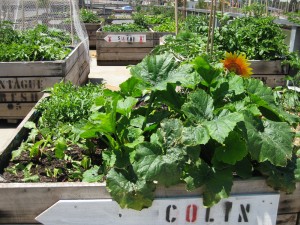 This is a community.  Gardeners get to know each other and discuss their gardens.  There is always someone on duty for advice and a chat.
There is an area to relax, share information and perhaps a glass of wine.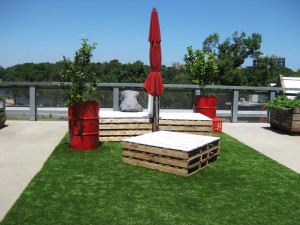 Some of the local restaurants are involved.  It is probably a bit early to be eating their Federation Square grown produce but  give it a few more weeks and there should be something to harvest.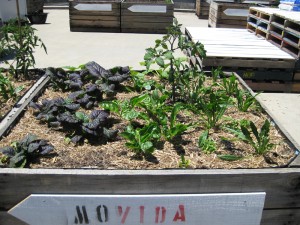 There is a great example of a flourishing wall-garden. You can discuss this with the person duty.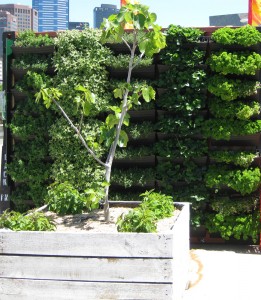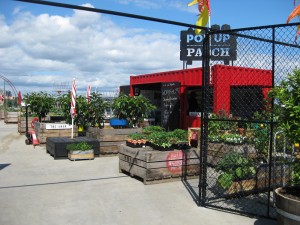 Where:-
The garden is at the back of Federation Square – above the car park
Staffed Operating Hours:
Daylight Savings
11am-7pm (7 days a week)
Non-Daylight Savings
9am-5pm (7 days a week)
http://littleveggiepatchco.com.au/
or
http://www.popuppatch.com/