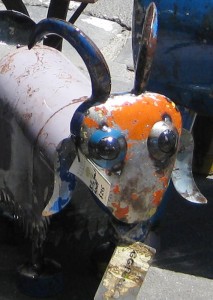 Brunswick Street, Fitzroy can be hot on summer days.  But even the hot pavements don't keep us away.   We still flock there to meet, drink coffee, eat, shop and so on.  I often browse  in the weekends and when I wish for a cool breeze or just time out from the hurly-burly of the street I head to the Fitzroy Nursery on the corner of  Brunswick Street and Leicester Street .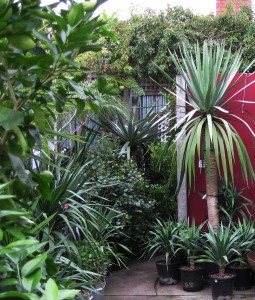 This is favourite Melbourne Place of mine to relax, unwind, cool down and drift.   I love the atmosphere, the sound of running water and all the large leafy plants.    I have mentioned these gardens in a previous post here .
On  a  recent visit I was introduced to some new and different metal sculptures.  As I listened to the sound of trickling water and stood under the shade of some large, leafy shrubs and trees I admired these iron sculptured animals.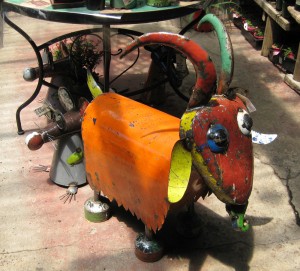 Grant the Goat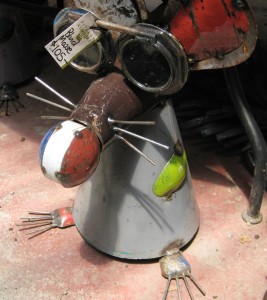 Blind Mouse
The metal animals seen in my previous post are made from recycled corrugated iron and created in New Zealand.  They have moved to new homes and these have taken their place.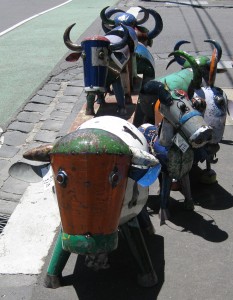 This is Clara the Cow leading the bunch along Brunswick Street
They are made in Vietnam from recycled and scrap  metal.  I understand that they are made in a community workshop with the money going back into the community.  Check them out – you can do this by walking past.  They are so creative.  I can't decided whether the colours are the original colours painted on the metal or whether there has been a bit of touch up.  If you look carefully you can see parts of old brand names.  I'm fascinated by their eyes.  I have been trying to work out what those metal circles were used for in their previous life.  Someone may know.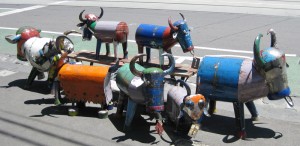 Where:-
Fitzroy Nursery – Artist's Gardens
390 Brunswick Street
Fitzroy
Opening hours:-
9.00am to 5.30pm weeksdays
9.30am to 5.30pm Weekends and Public Holidays
They change their hours slightly in the winter – may be worth checking.
Phone 9417 3272
Getting there:-
Tram 112