Gas Eateries and Supply Cafe  in  South Melbourne is a place to hang out.  Not necessarily to be seen or to see who is there rather because it's that sort of a place.
It's where to go to eat or sip a coffee and read the paper.  There are singles, couples, friends and groups doing that all day.
The café  serves Mediterranean and Middle Eastern food although I believe the general theme is Spanish.   When we arrived about 12.30 on a Saturday, the place was packed.  We hung around getting in the way of everyone while we waited for a table.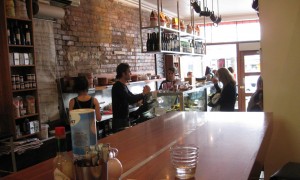 Large communal table and display case of tapas style meals.
This hanging around gives a chance to study the large display cabinet that runs along one wall.  We decided there and then what we were going to eat and a waitress took our order.  As soon as we were seated our order was whisked to the kitchen.  The service was casual and very attentive if that isn't a contradiction.
"No smoking. Gas" said the notice opposite us as we slid into our seats at one end of the long table.  This was a bit disconcerting but the gas actually stands for Gastronomy.  It could just as well stand for gas as in 'talk' because the atmosphere is so conducive to that.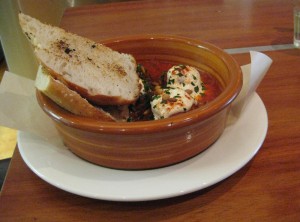 Meatballs and yogurt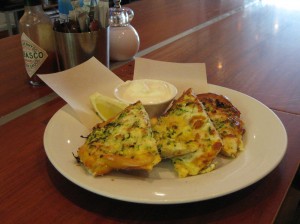 Zucchini, feta cheese and herbs.
Coffee was great and if you only want a caffeine hit – this is a good place.  Just ignore the food on display– once you start eying it you'll want to eat.
One of the surprising things about Gas is that although it is often crowded  the noise level is bearable – you can talk and hear without any effort which is often not the case in crowded cafes and restaurant.
There are tables  out on the pavement and bar-seating in the window  but most of the seating is at high communal tables with stools.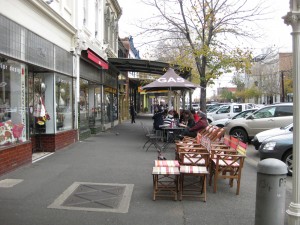 Gas Eatery and Supplies is for day-time, only. It opens a 8am and is great for breakfast – all sorts of delights – but it starts winding down about five and is closed at six.  The take-home-meals are delicious but of course you need to be there before 6pm.
Gas Eatery and Supplies
253 Coventry Street,
South Melbourne, VIC, 3205
Phone 9690 0217 for further information
Tram 112 from Collins Street in the CBD  goes along Clarendon Street.
Get off at Bank and Clarendon Streets and walk back a block for Coventry Street.
Coventry Street also has an interesting collection of shops for browsing in.