Gattica  Restaurant on Carlisle Street,  Balaclava is a favourite place of a friend of mine  who lives in Fitzroy North.  He is delighted when he has business around St Kilda East so he can head to Gattica.  His is always talking about the coffee and the Hash Stack he has there.
With such a recommendation I thought I should visit this Melbourne Place.
Gattica Restaurant, next to the ANZ Bank in Carlisle Street, Balaclava
It is one of the cafes clustered around the Balaclava Railway Station.  The morning I visited was grey, drizzly and dreary.  What did I think?   Well, I would go back for the atmosphere and the coffee.
It is hard to know what creates an atmosphere in a place.  This cafe is long and narrow with one side taken up with the bar.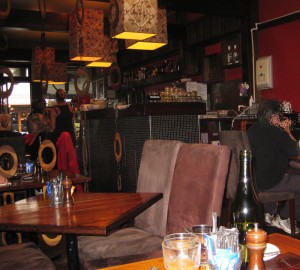 Does good coffee create an atmosphere? Does the pleasure you get from sipping your coffee give off positive vibes?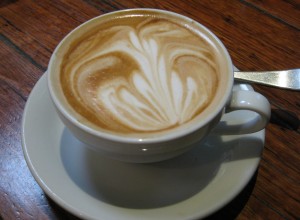 I have never been able to answer the atmosphere question.  Let just say that I love the atmosphere at Gattica.   When I entered it felt crowded but there was no trouble getting a table and a paper away from the noise of the coffee machine.  People around me were, reading, chatting and discussing business in a relaxed way.  I ordered coffee and a breakfast I love.  Corn fritters!  Perhaps it was an off day in the kitchen but the fritters were not of a standard I have had at other local eateries.  See Mart Cafe and Hot Honey Cafe. Perhaps I should have followed my friend's recommendation and chosen the Hash Stack.
Instead I grabbed the chance to have the corn fritters topped with a poached free range egg.  The egg yolk was hard so no chance of a delicious runny yellow liquid to mix with the pancakes which were stodgy and would have been improved with egg yolk.  The best thing was the bacon.  That was delicious.  Keep that in mind if you are there for breakfast you may like to add it to your dish.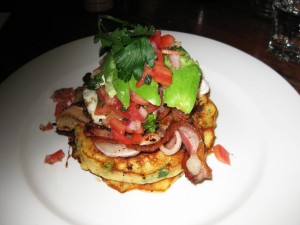 The corn fritters were a visual feast – great combination of colours.
Corn fritters come with tomato, basil salsa, bacon, avocado and finished with sweet chilli sour cream and I added a fee range poached egg.  The egg on the menu is fried.  I asked for poached – perhaps that is where the problem lies.
This may have been a bad day for fritters but as I can get better elsewhere I wouldn't order it again.  However I will go back. As I said, I like the atmosphere.  Next time coffee and the paper and perhaps I'll try Toasted Turkish Bread with seasoned avocado, fresh tomato and feta.
The cafe has a row of tables on Carlisle Street with gas lamps for the colder weather and it flows through to a courtyard at the back that opens on to Charles Street – a tiny street that finishes under the walkway from Balaclava Station.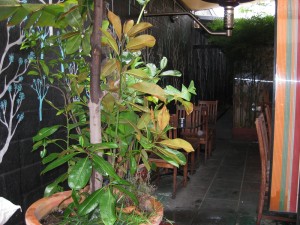 There's a take-a-way window onto Carlisle Street where it does a steady business in take-away coffee.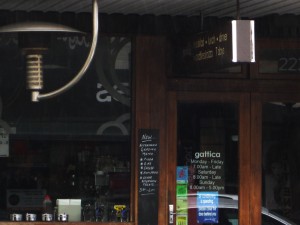 Getting there:-
Trams:-
No 3 and 16 from the CBD stop outside Las Chicas
No 78/79 from Richmond stop at the corner of Carlisle and Chapel Streets.
Trains:-
The Sandringham Line to Balaclava Station