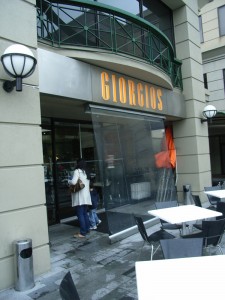 Georgios has been there forever.  That is probably too grand a statement but I can't remember a time when it wasn't there.   During the years I have known it, it has remained the same and become an Armadale icon if not a Melbourne icon.  The decor is rather like a sophisticated cafe and doesn't appear to have changed either over the years.  It is pleasant and relaxing and always buzzing. It's a great place to meet friends – everyone knows it or if they don't they can find it easily – the corner of High Street and Glenferrie Road opposite the Malvern Town Hall.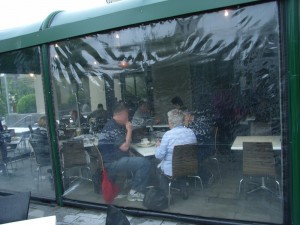 I worked in Armadale a couple of years ago and once a month we had a breakfast meeting in Georgios.  After a while we thought the food had gone off and we found other places. Thinking back I believe we needed a reason to explore other places – we wanted change.  Georgios had stayed the same.
Recently a friend said she was meeting her friend there and she would give me a report if I was interested.  I jumped at her offer.  "Yes please", I said.    "I want to know: is the food still good?  Did you enjoy it?  What about service?  And why did you choose Georgios?
This is what my friend e-mailed to me.
"The reason we chose Giorgio's is because it is well known which makes it a great meeting place. The atmosphere was humming without being too loud and the service was flawless.

The outside tables were not in use as it had been raining but you could imagine on a summer's day they would all be full of life.
I had the warm spicy tea.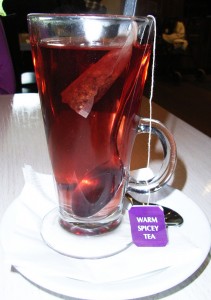 Then for my meal I had "avocado toast"  It was delicious. Two slices of honey and sesame toast with sliced avocado, topped with tomato and crispy bacon and a side of rocket and feta.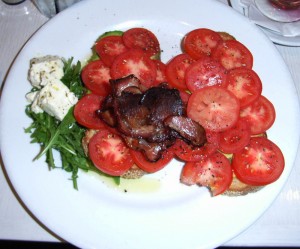 My friend had the egg-white omelette. This was on rye bread and the omelette was filled with feta and chopped tomatoes.  For an egg-white omelette she said it was very tasty. This came with a grilled tomato on the side".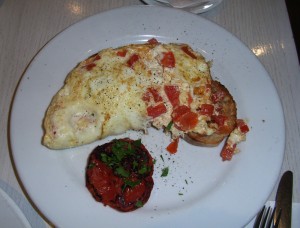 Giorgios has a dining area, a large outdoor terrace, wine bar, private function room and a semi-enclosed fully heated outdoor area.
Where:_
Georgios
1235 High Street, Armadale – on the corner of Glenferrie Road
Phone 9822 4664
Opening Hours:- every day from 7.00am to 1.00am
Getting there:-
Tram N0 6 to Glen Iris goes down High Street. Get off at the corner of High and Glenferrie.