I have been meaning to write about this fascinating shop in Lygon Street for some time.  It wasn't until an overseas friend joined me in Lygon Street for coffee and we browsed the strip that I remembered it.  She loved it and it was hard to drag her out of the place.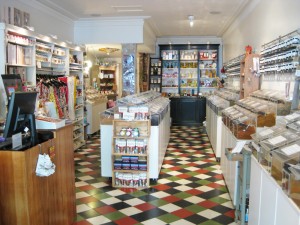 She kept buying me more salts and spices.  She bought them for me because she didn't think she would be able to take them into her country as they are not sealed.  I now have a section of my cupboard given over to her spices!  She needs to return and use them to cook for me!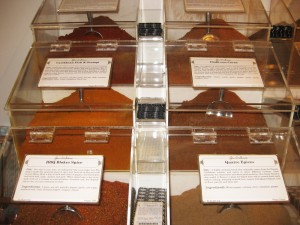 The shop is owned by two sisters of German Descent.  The story goes that they went to Germany and saw something like this and brought the idea back here.
The salt is what fascinates me.  The variety of spices too but I can't go past the salt.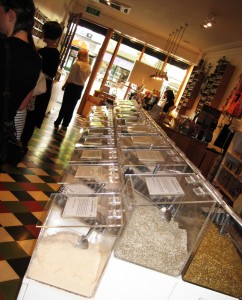 The bible mentions pillars of salt.  There are no pillars here but there are great slabs of salt and several rows of small bins where you can scoop it out into your own little bags.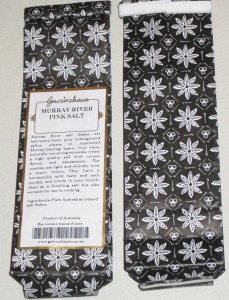 Here are a few examples.
Mount Zero Pink Lake salt,  Himalayan pink and black salt, Maldon Sea Salt and from Australia Murray River Pink Salt and New Zealand's Marlborough Flaky Sea Salt.  I love the pink ones but the black ones are fascinating.  I didn't realise salt comes in black as well as white.  Pink was a surprise too.
I have added these salts to salads, my cooking and to my morning oats – Maldon Sea Salt is good for this.  It has inspired me to buy a salt grinder so I can grind the salts that come in a slightly bigger chrystal form like the Himalayan pink salt.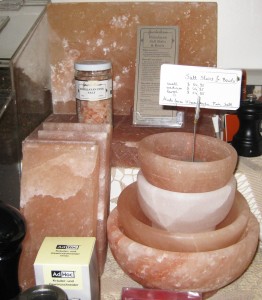 These beautiful pink slabs are made of salt .  They can be used a variety of ways.  One that appeals to me is heated on the barbecue with steak cooked on top.  I think it could be just as effective to leave the steak to rest on a slab before cooking and allow it to absorb a little of the flavour.
Where:-Gewurzhaus
342 Lygon Street
Carlton
Phone:- 9023 -1028
Opening hours:-
Monday to Saturday 10.00am to 6.00pm and Sunday 11.00am to 5.00pm
Web:- http://www.gewurzhaus.com.au/contact-us
There are also outlets in The Block Arcade, CBD  and Malvern.