Guilfoyle's Volcano sits on top of the highest corner of the Royal Botanic Gardens and from here you can look over the rest of the gardens and to Melbourne's CBD.
For years this strange wonder was hidden under an uncared for wilderness.
It was built in 1876 by William Guilfolye, who is quoted as saying, " Combine the useful with the ornamental." Originally it  was a reservoirs and Guilfoyle's folly. The restoration has made it into a reservoir again – combining the ornamental with the useful.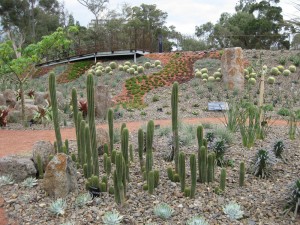 It has been restored with a  path winding to the crater lake and a water resistant garden of cacti and succulents.  The plantings are startling and it gives a weird effect of a planted moonscape.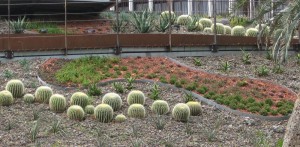 The red areas represent the lava flows – they are planted too.
I found the cacti fascinating and felt impressed with the production of so many perfectly round bright green cacti that look almost as if they were on the move.   They are called Golden Barrel Cacti ( Echinocactus grusonii)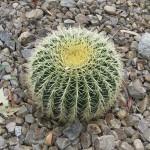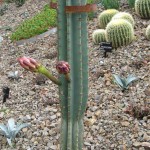 The recent hail has damaged some of the succulents and the pole cacti.  Some of the pole cacti are now staked and one is preparing to produce a couple of large flowers.
Numbers can be interesting and daunting for example; approximately 17,000 plants of 250 different species have been planted, of those species 97 are native to Australia.  There must be hundreds of these round cacti and I managed to let go of my urge to count them.
The lake in the crater is full.  The idea of looking into a crater lake  creates an expectation of seeing steam rising or a few bubbles coming to the surface.  It is a slight let down when nothing of the sort happens.   Instead there are floating islands.  These are to improve the water quality and in time this water will be used to help irrigate other areas the gardens.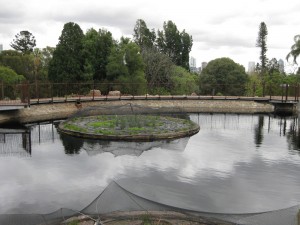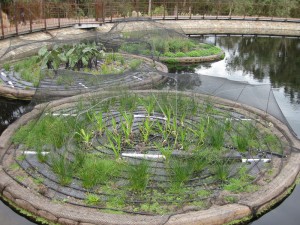 The garden is new as are the floating islands and it will be interesting to see how the area looks when everything has become established. If all these pole cacti  flower it will be a startling and beautiful sight.
Getting there:-
Tram 8 will take you almost to the Volcano. Get off at the Corner of Domain Road and Park Street and walk into the gardens.  It is right there.
The Botanical Gardens can also be accessed from St Kilda Road – follow the signs to Guifoyle's Volcano.
Parking:- 1 hour free in Domain Road. Paid parking in Birdwood Avenue.
Opening Hours:-
The gardens are open from 7.30am to sunset every day of the year.
Tours:- can be arranged by calling (03) 9252 2429