There has been some water seepage from Guilfoyle's Volcano.  To address this, the water has been drained and a new liner on the bluestone wall is being installed.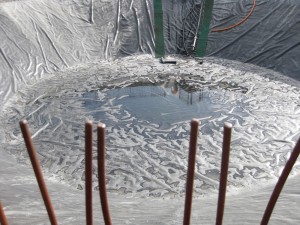 At the time of writing this – mid July -it is a chance to look inside the crater of this folly and see what an enormous space it is.  It is mind boggling to think of the amount of water that it will take to refill it.
Guilfoyle's Volcano is part of the water management plan which enables The Royal Botanical Gardens to improve the use and management of water.  So this huge reservoir of water is put to use.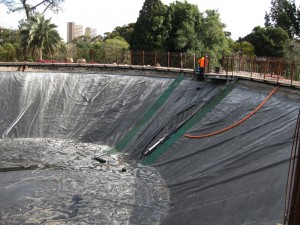 When these repairs have been finished the floating islands will be restore.  I guess they will be start from scratch and it will take time for them to become established again.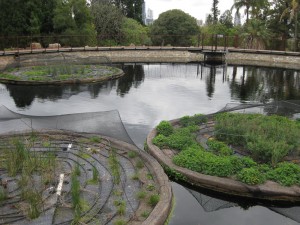 It was interesting to return to Guilfoyle's Volcano again and of course fascinating to find it empty.  It is about 15 months since it was established and I first saw it. See here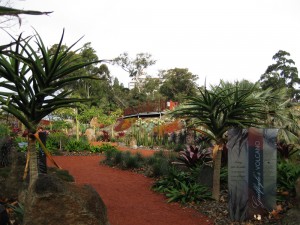 The plantings have grown. Most of the species have taken to their new home with love and have flourished.  They help to create an architectural structure to the garden.  This gives a strong visual impact.
Getting there:-
Tram 8 will take you almost to the Volcano. Get off at the Corner of Domain Road and Park Street and walk into the gardens. It is right there.
The Botanical Gardens can also be accessed from St Kilda Road – follow the signs to Guilfoyle's Volcano.
Parking:- 1 hour free in Domain Road. Paid parking in Birdwood Avenue.
Opening Hours:-
The gardens are open from 7.30am to sunset every day of the year.
Tours:- can be arranged by calling (03) 9252 2429