A cold evening, showers and a chill wind, your heading home and the big question is what to eat.    Take-a-ways seem a good idea and you want something quick.
How about The Hearty Hungarian, in Carlisle Street East St Kilda?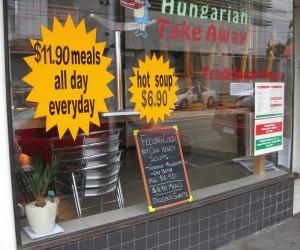 The food is ready to go – no waiting around.  All you have to do is make choices.  The Hearty Hungarian – is right next door to the St Kilda branch of the Port Phillip Library Service so you can roll out of there and step into it..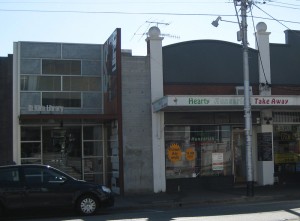 The first time I got food from there I'd been to the library and at closing stepped from that warm building into the chill of the evening.  There it was, the Hearty Hungarian in all its unsophisticated glory – Hungarian colours, bright lights and hot filling food.
The café has been here for a couple for a couple of years and is becoming known for serving up good home cooked traditional Hungarian food.  The meals are cooked by a Hungarian cook who has been feeding her family delicious wholesome food for 30 years or more
The food is 'cheap and cheerful'.  There is nothing polished about this place.  The tables inside are covered with flower patterned oil-cloth.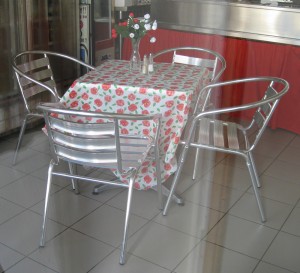 A meal, $11.90, is served with a main and two sides.  I believe you get enough food to feed two with the one serving but of course that depends on how much you eat and how hungry you are.

$11.90 meal
Tightly filled cabbage rolls ( 2 per serve) are baked with sauerkraut. When you think of a cabbage roll keep the thought of a spring roll out of your mind. These are huge in comparison.   The taste is interesting and could well come from the paprika that is used extensively in Hungarian cooking.
My favourite main is stuffed red peppers.  They are filled with delicate flavoured rice and mince.  The slightly sweetish taste that I love and go back to the Hearty Hungarian for may come from the red pepper and possibly paprika.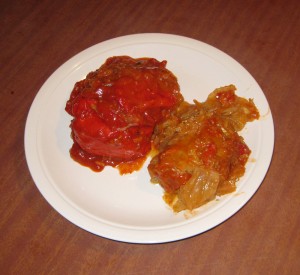 stuffed red pepper with sauce and cabbage roll
I have a retro Hungarian cook book written by Kato Frank published in 1963.  Kato Frank talks a lot about the heavy use of Paprika in Hungarian food. The stuffed Red Peppers have a great colour too.
A $11.90 meal consisted of two peppers or two cabbage rolls or another main such beef  stroganoff or meat loaf and two sides.  For side dishes I like lentils and Hungarian gnocchi  a very small sized pasta about the size of a pea and it goes well with the red peppers.  The lentils are particularly good.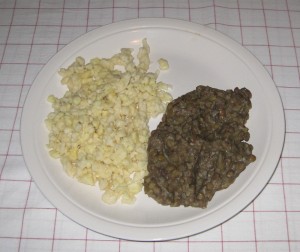 lentils and Hungarian gnocchi
This little food outlet enhances the European  feel you get on this part of   Carlisle Street St Kilda East.
Getting there:
Trams 12, 3, going along Carlisle Street, first stop past St Kilda Road. 67 Tram get off at the corner of Carlisle and St Kilda Road  or a 78 that runs from Richmond to the St Kilda East end of Chapel Street.
The café is between Chapel Street and St Kilda Road, beside the entrance to the St Kilda Library and opposite the St Kilda Town Hall.
You can also can take the Sandringham Line train to Balaclava Station and walk towards St Kilda Road.